Last week saw my inaugural visit to a school (The Priory School, Hitchin) as a RGS Geography Ambassador which came as a welcome change from the daily treadmill.
I joined the RGS Geography Ambassador program back in February but this was my first actual visit. Geography in schools is going through a slight dip in popularity as the relevance and career prospects of the subject are sometimes difficult to convey to children. The fact that geography is so broad and wide ranging is often viewed as a desirable feature of the subject, but it seems that in the case of education, this is resulting in the appeal of the subject to be somewhat diluted. In these harsh times the pressure on young people to think about their careers at an ever younger age means they are looking for clear specifics and career prospects.
To get the students interested I had decided that I should knock their socks off with some glittering HTML5 and some interactive OpenStreetMap goodness. So I set off creating a two-part hour long session which consisted of a 35min presentation about geography as a subject and geography in the real world today. My content was very mapping centric as that is the world that I inhabit, but I didn't forget my geo roots and managed to discuss some old geography classics (Natural Hazards, Environmental Protection etc…).
You can check out the presentation here – it is best viewed in Chrome.
The second part of my session revolved around a simple editing exercise for OpenStreetMap. The kids had access to a laptop between two which was perfect as they could troubleshoot with their editing buddy. I quickly showed the process of adding a building to OpenStreetMap, as demonstrated in my workflow (without adding addresses), in the default OpenStreetMap editor Potlatch2. I created an account on OpenStreetMap (user:rgsambassadors) for the whole class to use during the editing exercise. The kids then set off down the editing path with myself and the two other teachers helping them along the way. The kids added detail to the map around the town of Hitchin which thankfully didn't have many buildings already on the map. It seemed to go satisfactorily at the time but it's difficult to gage from a group of 15/16 year olds how excited they are by anything. The lesson was promptly wrapped up as the kids then shuffled off to the next class. That was all the surprises for the day over with – or so I thought.
I was unprepared for what happened next.
Back at home and time for the obligatory data quality checking. I signed in to the rgsambassadors account on OpenStreetMap to have a look at what actually happened. Immediately I felt a sense of pride that these kids on the whole really embraced this activity. There was an overwhelming number (~85%) of valid edits to the map. There was inevitably a small number (~15%) of editing 'experiments', which had to be changed by myself – but this was not unexpected. There were also a number of edits that went far beyond what I demonstrated including adding address detail and other feature types to the map.
Editing Highlights
2x Correctly adding address attributes without me demonstrating it – fantastic initiative (example)
1x Correctly adding and tagging the entire school !! (example)
1x Adding more buildings than just their house (example)
1x NAPTAN bus stop relocation – after naively thinking this must be a mistake or vandalism to the map, I tried to revert this edit and then saw that the location they moved the bus stop to was actually the correct location.
1x Adding local convenience shops with names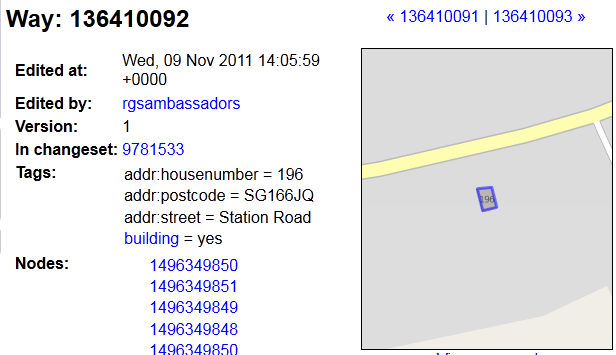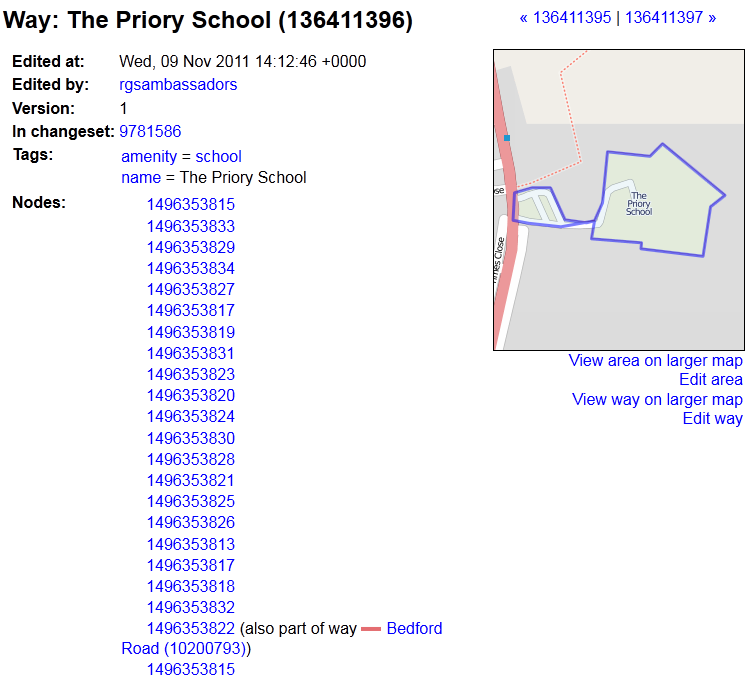 Interesting Edits
3x Adding their own names to the name attribute of the house: e.g. "Farias House"
2x Filling in address attributes and adding the address attributes in the name field
1x Adding 'amenity=public_building' to a block of council flats – good or bad?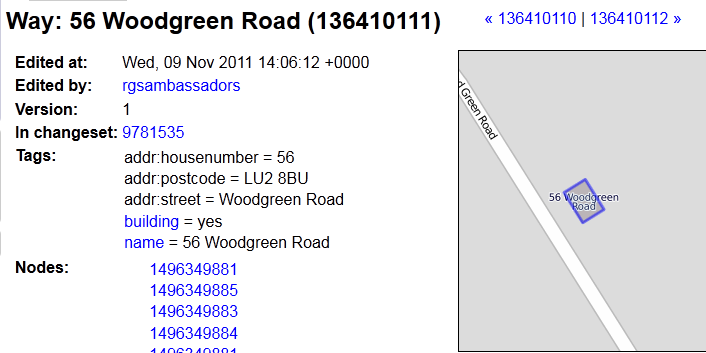 Bad Edits
1x Name writing in Svalbard
1x Some illegal activity mapping (it may have been correct) – I won't name names
2x Adding polygons with no tags or in the wrong place
2x Randomly added points with no attributes
Lessons Learned
There were some important lessons which came out of this session which will be useful for any editing sessions involving new mappers:
Making them edit with a finger mouse – bad idea, it's just impractical for mapping. If I can't stand doing it, then I shouldn't make them do it. Maybe next time I can bring along a box of mice.
Slow down my demo – maybe I rushed through it a bit quick or maybe I could have run through the demo as they followed me on their own edit.
Make sure they are not editing in 'live mode'.
Make sure you demonstrate how to delete and undo mistakes. There were a number of mistakes which I then had to show them how to undo or just reload the browser.
The students added more than just buildings and addresses, they were able to add schools, shops and bus stops. The pre-set features seem to be very useful for new mappers.
My initial estimates of OpenStreetMap tile re-rendering speeds was a little off; within the 25min editing session, not many of the kids were able to see their edits appear on the map. This may have been a combination of slow rendering of OpenStreetMap, browser caching and the fact that as a room, we completely maxed out the WiFi connection during the editing session.
Despite the WiFi point above – the school actually had great WiFi facilities – things have changed a lot since I was at school.
I was really proud of these kids, they were well behaved, on the whole they managed to edit OpenStreetMap successfully which is no mean feat for 15/16 year olds and many of them showed initiative and took their editing far beyond my initial demo. The kids and the teacher seemed really interested in the concept of 'participating in geography' which is really what OpenStreetMap is all about. They seemed very interested in the concept of adding something to a map which then appears on the internet.
If your school wants to find a geographer to visit your students and talk about geography in schools, university and as a career please visit the Find Geographer Ambassadors website.