With the latest release of ArcGIS Online you now automatically get access to free high quality basemaps for Great Britain. We have created the new basemaps using the latest Ordnance Survey Open Data products and enhanced them for use in the ArcGIS platform. Enhancements include a consistent cartographic style to provide a clean and consistent mapping from small to large scale, as well as additional road and street labels at mid and large scales.
Five new GB basemaps
There are five new GB basemaps. They are all designed to be used as background mapping, providing a seamless map view from national level to street level with a consistent style.
OS Open Carto
The mapping is full colour, with roads symbolised according to their classification (motorways in blue, primary roads in green, etc). Click on any of the images below to open the basemap in ArcGIS Online.
OS Open Background
The symbology is muted with only a limited number of colours used, allowing dynamic data to be easily viewed when overlaid.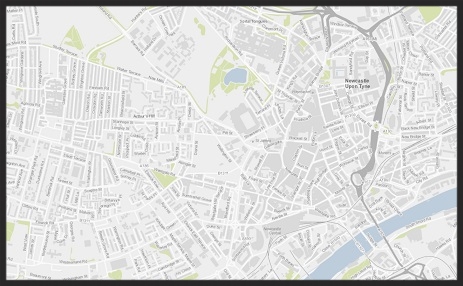 OS Open Greyscale Labels
Only grey colours are used in this map which makes it very useful as a base map for presenting thematic data.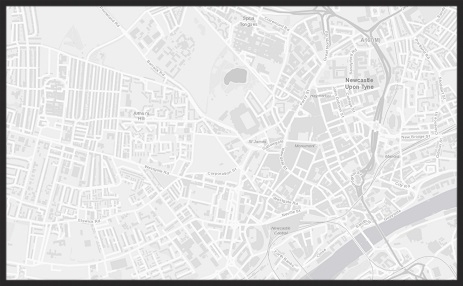 OS Open Greyscale
Only grey colours are used in this map, which makes it very useful as a base map for presenting thematic data, and the labelling has been removed completely.
OS Open Raster
The OS Open Raster map service contains all the Open raster map datasets available as a map stack. Each product is displayed at the most appropriate zoom scales, so you have a view on the data from the national level down to street level.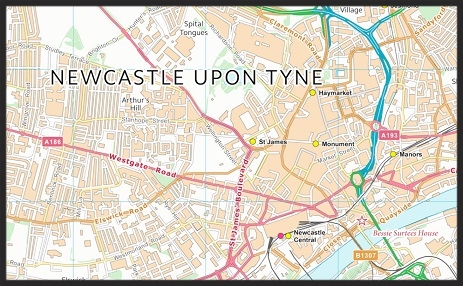 The Carto, Background and Greyscale maps use the following OS Open Datasets: Strategi, Vector Map District and Open Map Local.
The Raster map uses the following OS Open Datasets: Miniscale, OS 250K, Vector Map District raster and StreetView.
Simple and Easy to Use
ArcGIS Online
The basemaps are ready to use as soon as you open a map in ArcGIS Online with no additional configuration or settings to change. Simply chose the GB basemaps from the 'Basemap Gallery'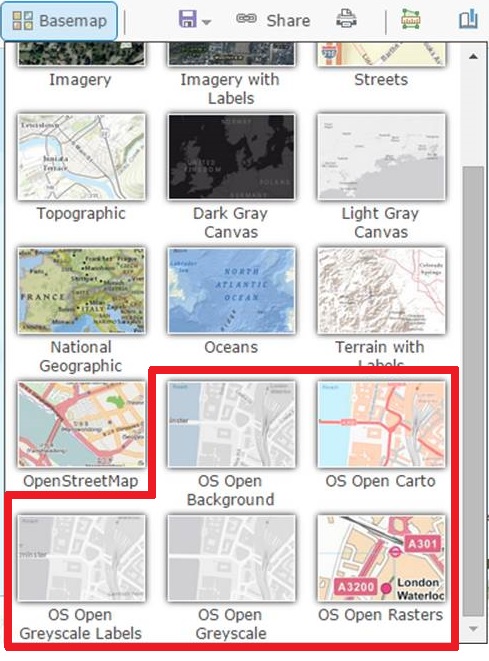 Note: If you have changed the Esri Default group that controls the Basemap gallery in your organisation account you will not see them listed. If you wish to add them into your group you can do so using the links at the bottom of this blog
ArcGIS Desktop and Pro
The basemaps are also available to you in the same way in ArcGIS Desktop and ArcGIS Pro via the basemap gallery.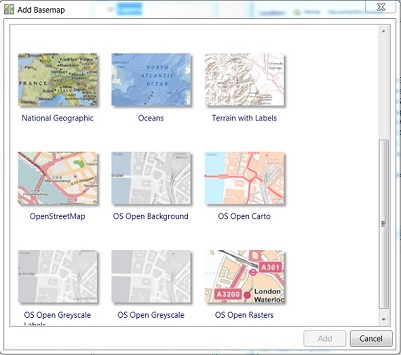 Let us have your feedback
The basemaps will be updated regularly in line with the release of OS Open Map Local from Ordnance Survey. If you have any comments or suggested improvement please contact us at datacurator@esriuk.com
FAQs
What Projection are the new basemaps in ?
The basemaps use British National Grid (BNG) and your map will therefore use this projection system. This means if you use other BNG data in your map, it will not need to re-project.
How are the new basemaps different from those in the Esri UK Online Content Services ?
The new basemaps are hosted in ArcGIS Online. The existing basemaps, provided by Esri UK since 2011, are hosted by Esri UK and you had to register with Esri UK before you could use them. There is no registration with the new ArcGIS Online GB basemap – you just use them within the ArcGIS Platform via the basemap gallery.
The number of basemaps has changed as well as some of the cartography used.
Current Esri UK Online Services
New GB basemaps in ArcGIS Online
OS_Open_Background
OS Open Background
OS_Open_Carto
OS Open Carto
OS_Open_GreyScale
OS Open Greyscale (no labels)
N/A
OS Open Greyscale Labels
OS_250k_Raster
OS_Miniscale_Raster
OS_StreetView_Raster
Consolidated into single 'GB Rasters' basemap
OS_Meridian2_Carto
Discontinued
OS_Strategi_Carto
Discontinued
Cartography
– We have moved to using OS Open Map Local at the two largest scales. The main benefit of Open Map Local is the greater level of detail, especially for building footprints. There is also much better attribution of road names and place names, making it simpler to label minor roads.
– Other changes include the removal of spot heights, heritage sites and public amenities to give a less cluttered base map.
– Place names in Open Map Local have replaced the Vector Map District labels at scales 1:50,000 and larger.
– At 1:50,000 smaller place names are suppressed to reduce clutter.
– At 1:50,000 Vector Map District roads are used in place of Strategi to give a more detailed view.
Can I continue to use the existing free basemaps from Esri UK ?
The existing basemaps are still available but they will not be updated. We will announce a retirement plan for these basemaps shortly, and you will receive plenty of notice before they are discontinued. We recommend that you start to move over to the new ArcGIS Online GB basemaps as soon as you can.
How do I swap from the existing Esri UK basemaps to the new ones ?
There is no way to automatically update existing ArcGIS Online maps and apps, ArcGIS desktop mxd's or ArcGIS Pro projects to point to the new basemaps. You will need to manually review, edit and save your mxd's etc.
What can I use the basemaps for ?
We often get questions such as "can I use the basemaps in any of my public facing webmaps" or "can I screenshot the map for use in marketing flyers". Use of the maps is governed by the terms and conditions from Ordnance Survey and those of ArcGIS Online.
OS makes a number of datasets available free of charge under the terms of the current Open Government Licence (OGL). The basemaps contains public sector information licensed under the Open Government Licence v3.0. If you redistribute the data, then please ensure you provide these acknowledgements.
To find out more information about each basemap, use the links below: