Wind back the clock a few years and ecologists across the UK relied on traditional techniques to collect Phase 1 Habitat Data. Paper and pencil were the tools of the trade and painstaking hours were spent hand drawing the maps.
Wind the clock forward to today and these techniques have been transformed, with most ecologists now using modern GIS enabled workflows to record and deliver surveys in a fraction of the time. Esri's ArcGIS Online has enabled seamless, synchronised workflows from the field to the office - and the office to clients. However, even the more experienced users will tell you there is always room for improvement. Whilst existing data collection techniques are a huge step up from where we were only a few years ago, they still involve editing back in the office.
Over the last few years I have been working with ecologists and construction & engineering companies alike, who need to carry out Phase 1 surveys. I have assisted them in maximising survey efficiencies, using ArcGIS Pro and ArcGIS Online. Throughout, I have worked closely with customers and gathered their feedback. Surveyors were repeatedly requesting automatic integration of the approved JNCC symbology, as well as advanced editing tools - which aren't currently available in existing applications.
This is where the Esri UK's new Phase 1 Habitat Surveying offering comes in.
Harnessing the power of Sweet
Sweet is an ArcGIS tool which enables organisations to make use of smart applications which have built-in rules to assist you with your data collection. These rules could be anything from 'do not allow polygons to overlap' to 'when I create an area add 2 buffers of 100 and 150m'. Because Sweet understands these rules, when features are created or edited they will automatically comply with these rules. This makes data ready for reporting and analysis immediately, reducing the need for edits back in the office. These capabilities largely align with what surveyors of Phase 1 were telling me they wanted.
Working alongside some of the UK's leading ecologists, Esri UK has developed a new Sweet template to generate Phase 1 survey apps. The apps give users; the ability to split polygons, snapping, tracing, free-form drawing, arcs, perpendicular guides and many more features.  Here's a table of the list of requirements for Phase 1 Surveying with GIS, showing the gaps which existing applications cannot satisfy: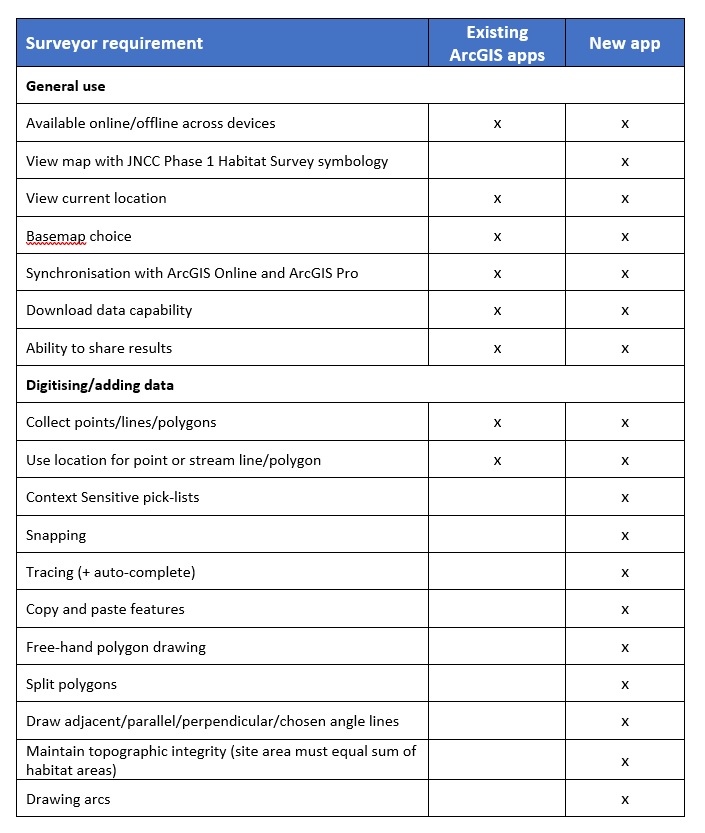 The app is pre-loaded with the industry standard JNCC guidelines and automatically changes based on the type of habitat you have created.  You don't even have to think about what the symbology should look like, let alone change it or need to create it - so you are free to get going onto the next habitat.
Collecting multiple habitats of the same type? No problem. Simply draw them all first, then select them all and choose the habitat type.
Habitat areas are not allowed to overlap.  It is important in GIS to have what we call 'good topology' which means areas do not overlap and - if touching - they perfectly line up.  Sweet lets you put topology rules into data capture - a very powerful time-saving technique! Imagine I'm digitising a grassland running alongside a river. I have already done the river and I'm really not looking forward to doing the same process for the grassland.  So, all I do is draw the rest of the habitat, then overlap the river. The application cuts the excess away and snaps my new habitat to the existing one. BAM!  I've got myself a full habitat snapped perfectly to the river.
This means no more quality assurance processes back at the office allowing you to create reports ready for your clients.
No holes, no overlaps, no worries. Lovely stuff!
Linking with the rest of the ArcGIS Platform
The application uses hosted layers in ArcGIS Online to capture the data, so using the results of your surveys couldn't be easier. You can bring your results into any web map in ArcGIS Online - or directly open and use the data in ArcGIS Pro to create a report quality map in seconds?
If you want to export your data, this is also easy.  Just head to the item details page in ArcGIS Online and export away.
Getting started
All you need to start using the Sweet Application is an ArcGIS Online user type (Editor as a minimum) and a license to the Phase 1 Habitat Template.
There will be options to license the template whether you are an existing user of ArcGIS Online, a new user to an existing ArcGIS Online Organization, or a brand-new customer without any form of Esri software.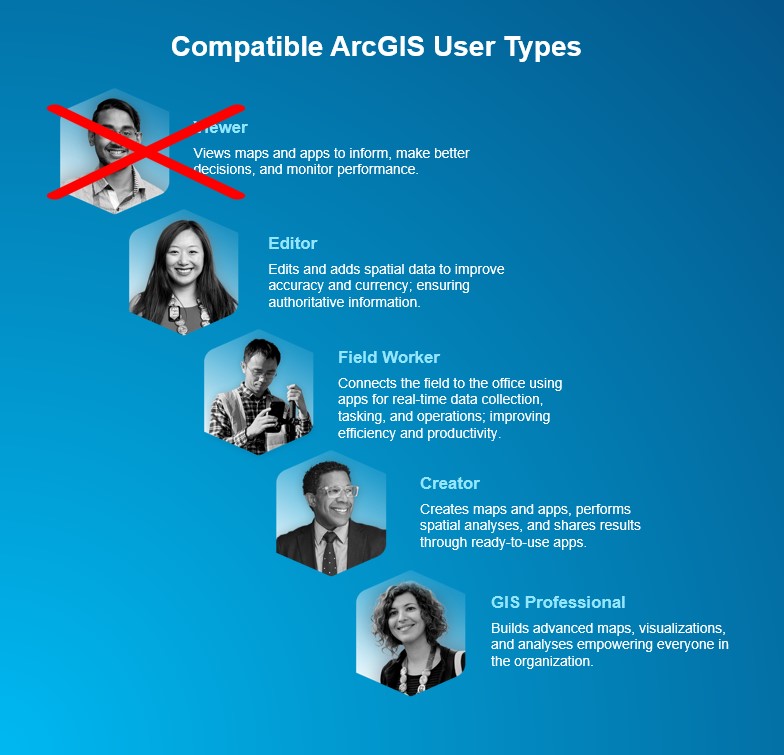 If you'd like to find out more we're running a webinar on 17th  April, including a full demonstration, and if you can't make that the recording will be available here. There will be a full guide on using the app and for FAQ's published soon.
Happy Phase 1 Surveying everyone and feel free to connect with me on LinkedIn for more information and advice!