I'm a big fan of the next generation of ArcGIS StoryMaps. They offer a single, clean builder to add narrative content and illustrate spatial relationships with real visual appeal. No two stories are the same, so the format and tools you use to present them don't have to be either.
Another benefit of the new ArcGIS StoryMaps is that they're updated on a regular basis, continually adding functionality and improving usability. As the end of term is only a few weeks away, now is the time to take your storytelling up a key stage with some of the new features.
Duplicating a Story:
You can now duplicate any story or collection you've created in three simple clicks.
Click the ellipse next to Publish
Select Duplicate story
Confirm Yes, duplicate story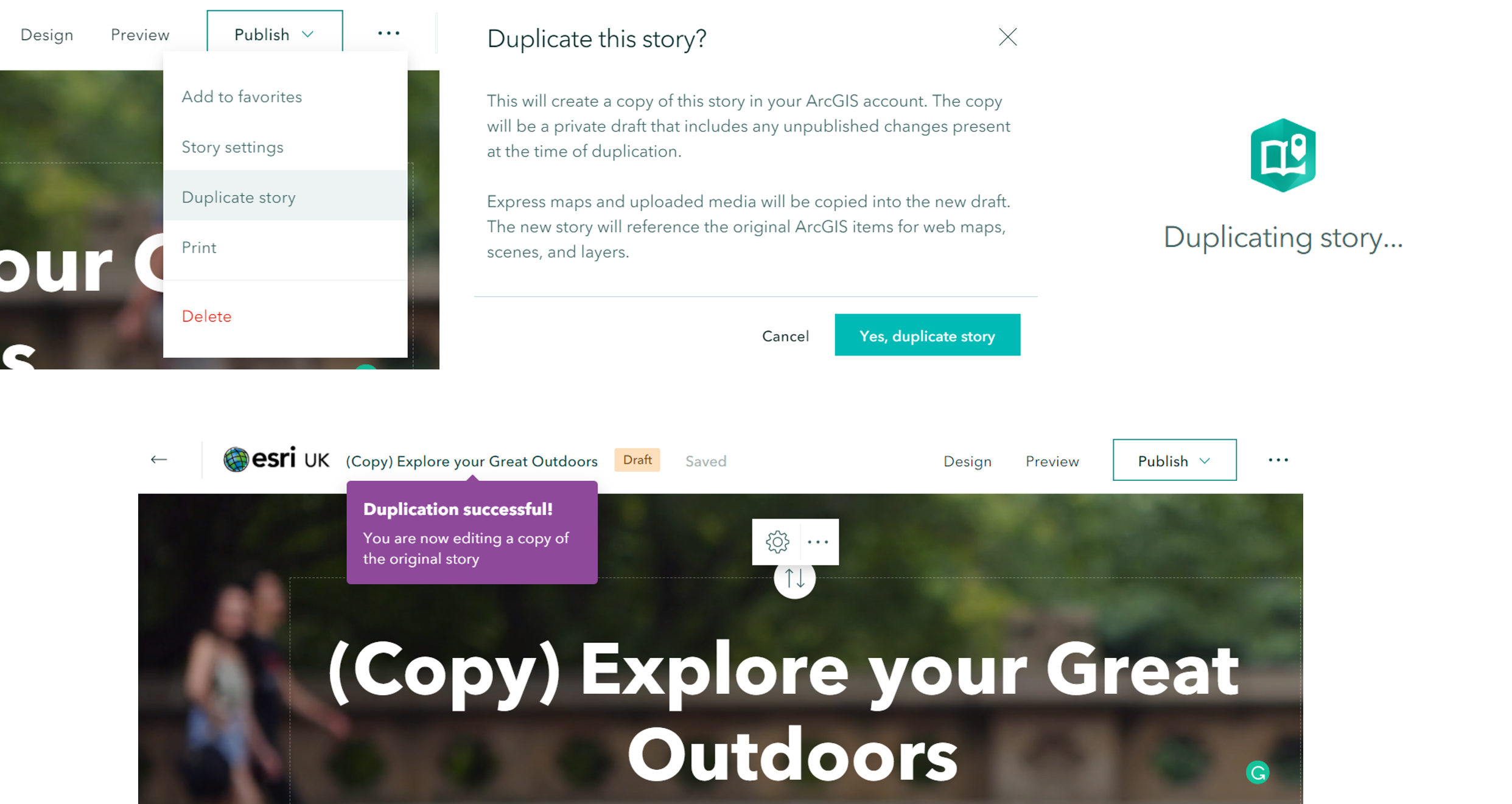 This is a huge update for storytellers that want to keep continuity across a number of stories or tailor stories to their organisation. Any theme, design or structure you've spent time curating can be replicated with new content, all whilst maintaining your brand's identity.
At the moment only the story's owner/ the organisation's Admin can duplicate stories. However, if you add the story to a shared group in ArcGIS Online, any member of the group can then duplicate it too.
The Jane Goodall Institute created their Discover, innovation & hope story to honour the 60th anniversary of Dr. Jane Goodall's arrival in Tanzania to begin her groundbreaking study of wild chimpanzees. By duplicating it, this story is now available in a number of foreign language versions.
Theme Builder:
You can now create your own themes in ArcGIS StoryMaps with the new theme builder! This addition to the Design panel allows flexibility over story elements such as background and accent colours, fonts, button and separator styles.

Once published, find your theme in the Design panel next to the familiar Summit, Meridian and Tidal – pretty seamless. To look at all the themes you've created, simply go to the Themes page from your profile menu, or by clicking Manage back in the Design panel.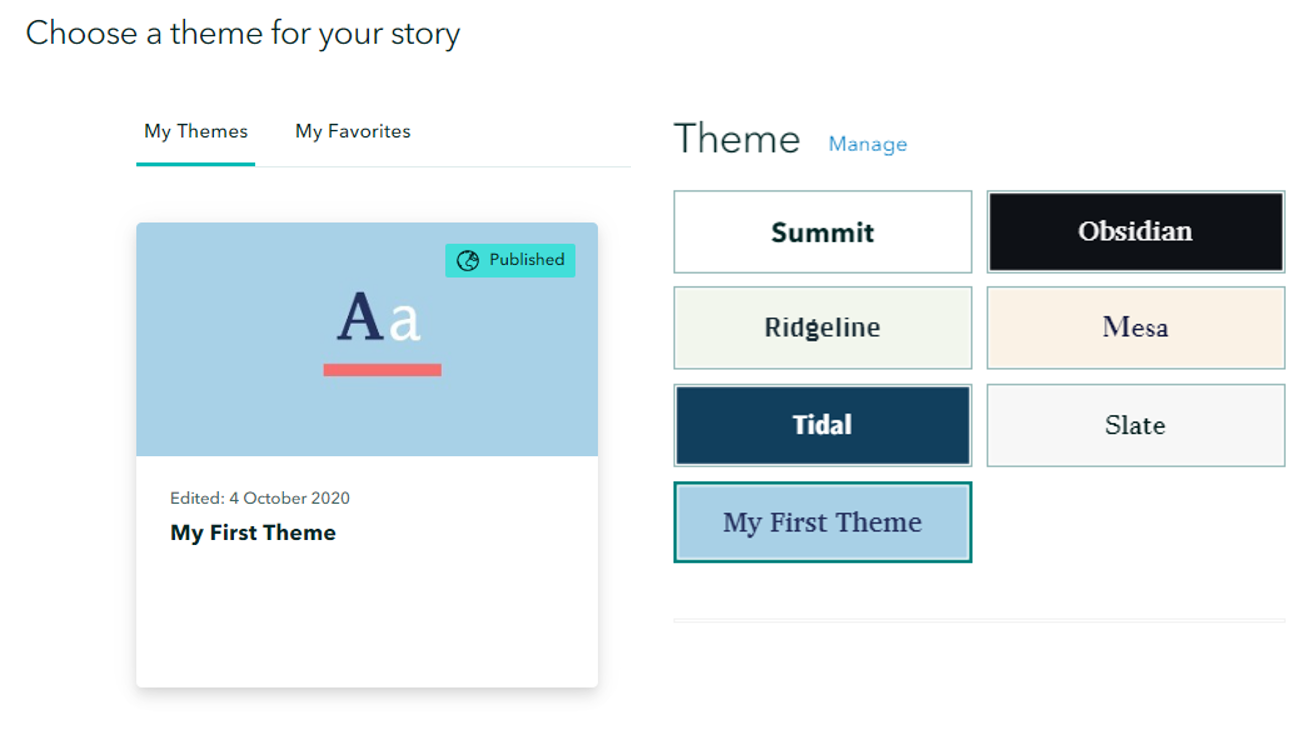 Recent updates to the Theme Builder include the ability to add your own logos, along with a whole host of new fonts. Future plans include a colour picker and contrast checker (to let you know whether your chosen colours meet accessibility guidelines) so definitely worth checking out and getting yourself familiar with its UI.
Express Map Basemaps:
The ArcGIS StoryMap team keep adding new bits to express maps, by the time this blog is published they'll have probably released a load more! But choosing your own basemap is my favourite at the moment.
You can now use a web map as an express basemap. Choose from any of your own maps in your ArcGIS Online account or those shared with your organisation, as well as maps available in the ArcGIS Living Atlas.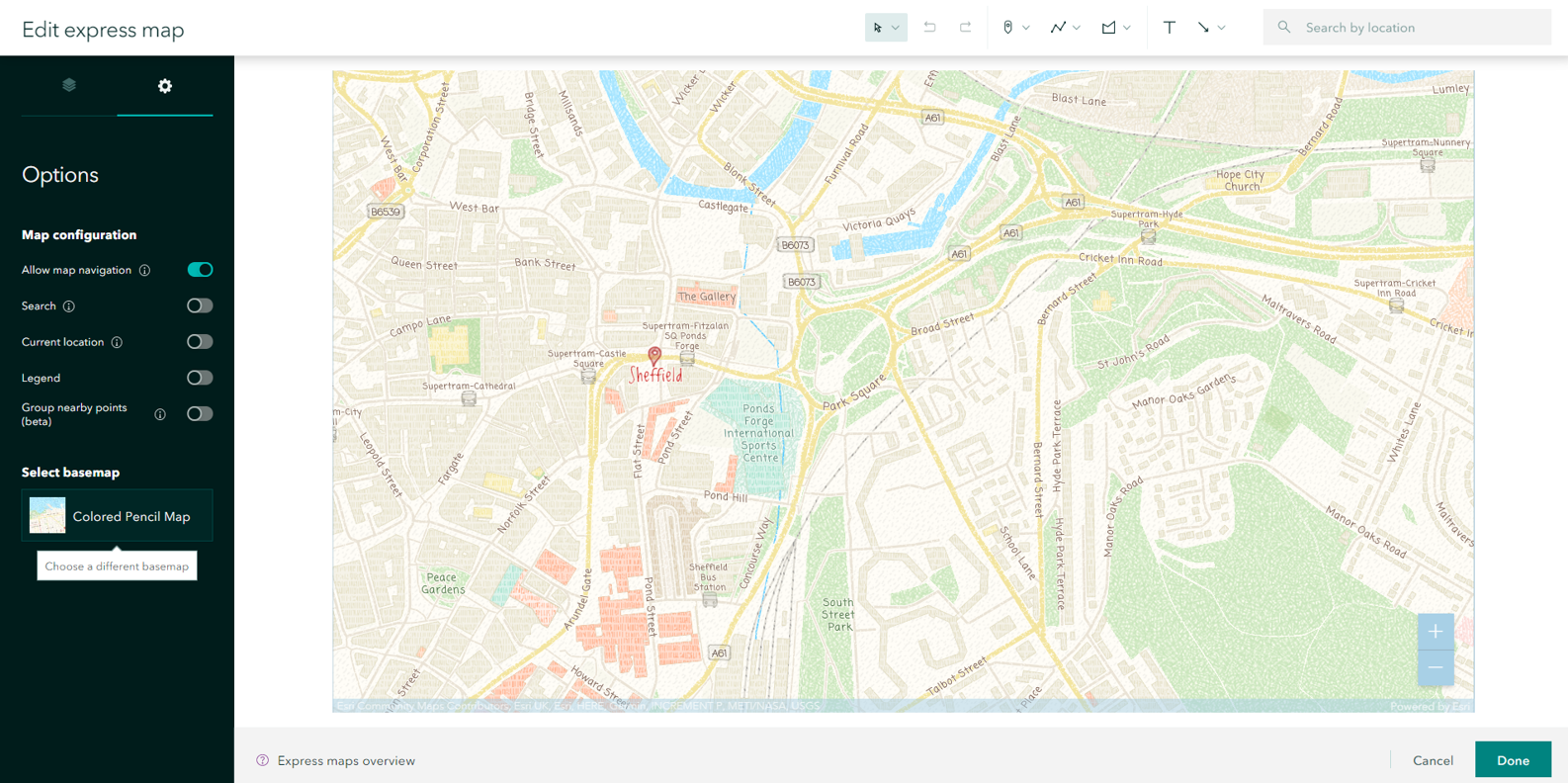 To change your express map's basemap, go to the Settings tab in the map designer. Here I've chosen the Colored Pencil Map as my basemap, a fun 'hand-made' design available in the Living Atlas.
Google Analytics:
A popular update, you can now generate viewer metrics by adding analytics to your StoryMap. As an author, analytics tracking is useful for gaining insight into your audience and how they engage with your content. These metrics can include how many people saw your story, how long they stayed on the page, and what kind of devices they used.
To add analytics to a story, get your Google Analytics ID, click the menu button in your story and open the Story settings menu. Paste your ID here and click Save.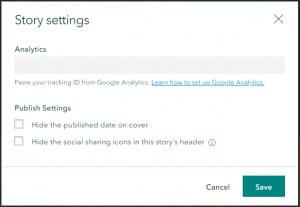 For more info, read this blog for more info on how to set up Google Analytics in your StoryMap.
Collaboration:
Most recently, new features are focusing on this idea of collaboration, which will help you write stories and build collections with your colleagues as well as find content created by others more easily. This is great news for those of us in our new home-working environment, as well as students and teachers using StoryMaps in education.
There are a few collaboration features which can be seen in more detail here, but my favourite is the ability for co-authors to publish changes simultaneously. This means that multiple users within a group have access to edit the same StoryMap, and publish these changes too.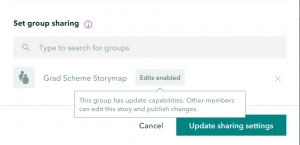 So that's my top 5 of ArcGIS StoryMaps' recent updates. If you're stuck on where to get started, the StoryMaps Weekly Waypoint gets updated every week with the latest enhancements, resources and showcases featured stories, which are a great source of inspiration for storytellers.
Also, check out this roadmap to see what's next for StoryMaps for the rest of 2020 (including explorer tours and image galleries!). Most importantly, have fun playing with the new builder and all its enhancements.
All the best!