ArcGIS StoryMaps has been empowering storytellers more than ever this year with a heap of big enhancements. Big, huge, almost too many to keep track of!
I'm going to take you on a whistle stop tour of my favourite enhancements among the home site refresh, immersive content block, and design panel.
StoryMaps Collections
Think, a cohesive "storybook". StoryMaps collections bundle together StoryMaps, Apps and now Survey123 forms into a one-stop collection to share or present. Hurrah! You can now close those 27 tabs. Take inspiration from The Voices of Grand Canyon Collection, or delve into regular StoryMaps updates from The Weekly Waypoint Collection.
Not only can you build a collection, but you can now customise them with the long-awaited theming capabilities. That's right, you can now theme your collections to the same look and feel of your stories. A true branding mastermind. Just navigate to the design panel and Browse themes to choose from your custom themes or even an approved theme by your organisation. Whether you want to share your collection to the public or your ArcGIS organization, you'll be sure to make your mark.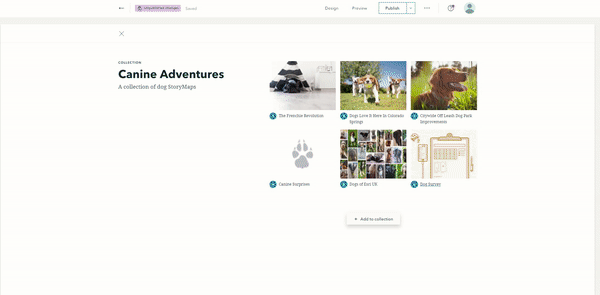 Check out how to start your first collection here.
Google Fonts for Theme Builder
Presenting the right narrative is often associated with typography. Think of the traditional Times New Roman or the light-hearted Comic Sans. So, the addition of over 1,000 open-source font families from Google Fonts for Theme Builder is very exciting. Just select Add from Google Fonts from the Typography dropdown menus. This provides a handful of the most useful fonts to make smart font choices and prevent a typographical overwhelm.
One of the major benefits of Google Fonts is matching your organisation's brand. Dive into many more fonts by selecting Show all options. While they don't include niche non-open-source fonts, you're almost certain to find a near-identical alternative to match your brand. Check out how to customise your typography here.
Image Gallery
Bring your StoryMap to life with the image gallery! If you're wanting to engage your reader with visual storytelling, then this is the tool for you. It offers two collage layouts adding up to 12 images to be stacked side-by-side as seen in the Little Moments StoryMap (examples below).
Jigsaw resizes your images to fit them together without cropping them.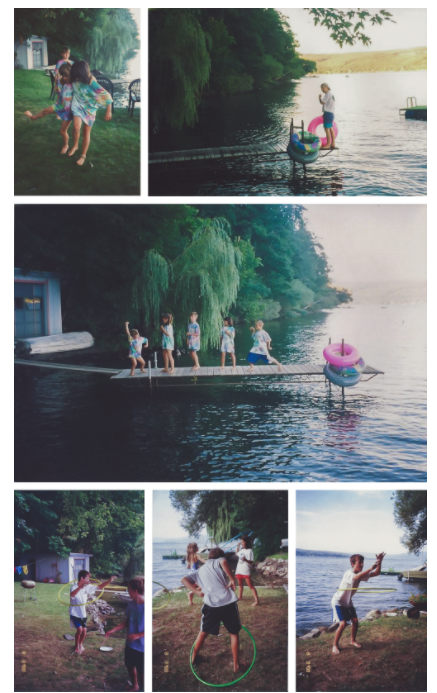 Dynamic squares are resized and cropped into neat, even squares.
Six presenting modes
ArcGIS StoryMaps has become a gateway to discovering the power of geography and storytelling. This starts here in the immersive block.
Beginning with Map tour, you'll find the much-loved Guided tour as either Map focused or Media focused. This tends to be a better option for chronological stories with fewer places. Whereas Explorer does what it says on the tin and explores a larger set of places.
Next up is the Sidecar, a true classic, presented as a Floating or Docked panel to provide a dedicated scrolling space for text and images.
Last but not least is the newest addition, Slideshow, which is a great way to flick through media synonymous to the classic Story Map series.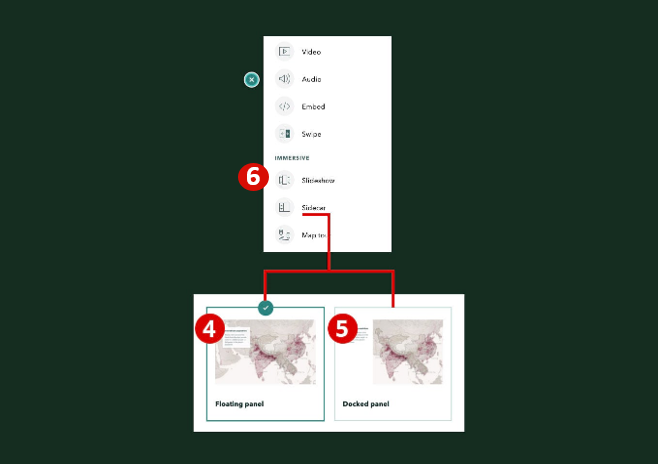 Immerse yourself in these six presenting tours, all of which provide interactive and engaging tour-style narratives. They can be seen in use in Six Scottish hikes, six tour formats and The Diversity of Life StoryMap.
Swipe Map to Sidecar
Tucked away in the sidecar is the ability to insert swipe maps. This visual comparison allows readers to swipe between two images or maps. This gets seriously cool when you use it within a floating pane. Here the narrative panel fades out as you swipe to reveal an unobstructed view of your map or image.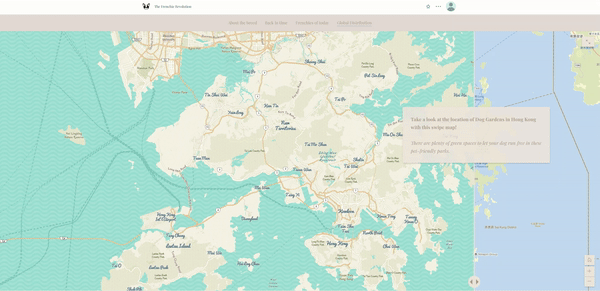 There you have it. A host of exciting big enhancements. You can see some of these being put to use in our current Box Set. If you want to keep track of the StoryMaps weekly updates, like the new timeline block (beta), take a look at this the What's New blog and the Weekly Waypoints. You can even keep an eye out for the next big enhancements with this roadmap….