Working with CAD/BIM operatives and their fantastic drawings has been technically challenging, but also an enlightening experience due to handling highly detailed building models based upon clear and consistent data structures. Recently I have been researching workflows that better enable integration with the ArcGIS platform for AEC operatives.
Building Scene Layer
The Building Scene Layer allows you to work with Revit model data in ArcGIS Pro, to then develop further and share these incredible BIM models using an ArcGIS Online Scene.
Part of a family of five scene layer types; the Building Scene Layer optimises the display of BIM models and its mechanical, architectural, piping, electrical, and structural disciplines within ArcGIS Pro. As seen below, this Autodesk sourced BIM model has been represented as the Architect expects it to be. The positioning, symbology and disciplines that make up this building are represented.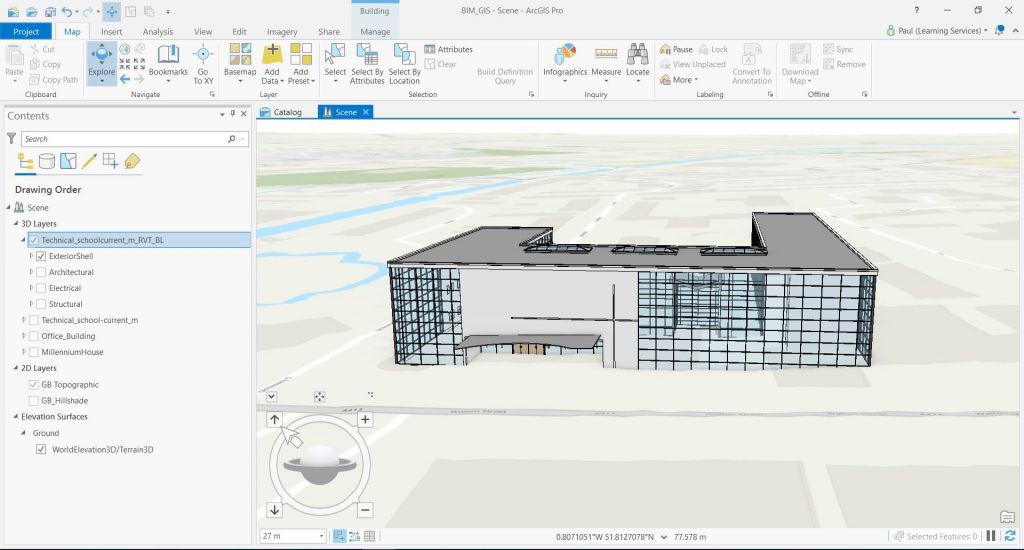 Not until I got through the conversion process and stored the BIM model in a File Geodatabase dataset, did I appreciate how quickly the copied BIM model can render. I can pan around, change the scale, identify attributes associated with any of the geometries, perform exploratory analysis (like the Slice tool in the image below) to further explore the interior of the BIM model, or filter the model further to create my own useful representations within an ArcGIS Pro Scene view.
The Building Filter provides the ability to represent categories within the BIM model, either using solid fills inherited from the BIM model or as a wire frame. In the image above, I have created a Building Filter which represents the floors, stairs and roof as solid fills using the inherited symbology but have also symbolised the structural columns as a wireframe (disregarding colour) to produce an insightful render: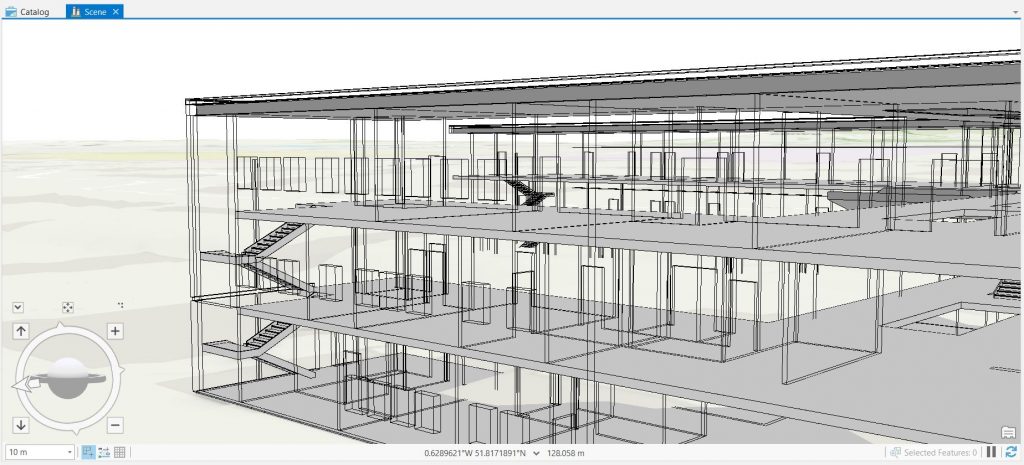 This functionality would have been exclusive to the BIM operator but can now be recreated using ArcGIS Pro, along with the geographic context the ArcGIS platform offers.
Sharing
As I said at the start, I also wanted to share this BIM model to an ArcGIS Online Scene. The purpose of this is to start to engage with others; such as a non-technical audience which may also require to interact with the BIM model, but do not have the CAD/BIM or GIS skills/software's to do so.
I used the Building Scene Layer and shared to ArcGIS Online to create a Building Scene Layer Package and a Hosted Building Scene Layer. Both results are useful and allow for streaming your BIM model into ArcGIS Pro projects, ArcGIS Online Scenes or ArcGIS Earth. Or  simply download the layer package and to be used in ArcGIS Pro as a local file.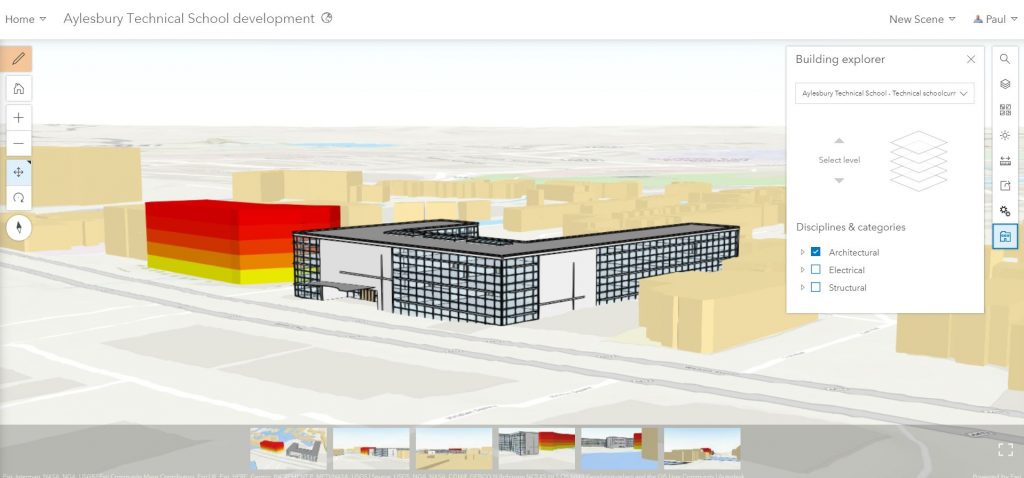 Once published, I used the Hosted Building Scene Layer and added it to the ArcGIS Online Scene. This is a great example of how an ArcGIS Online Scene can replicate an ArcGIS Pro Scene to produce informative and interactive views. And because this is a Building Scene Layer, your audiences can use the Building Explorer tool to explore the BIM model – floor by floor or measure along the x, y, and z axis.
There are a lot more tools held in a scene viewer that any recipients of this scene can enjoy and be productive with, and of course it doesn't have to stop here. You or your colleagues can go on and develop the Scene into one of the many web apps offered on ArcGIS Online.
I hope this blog post has been a useful taster on working with BIM models in ArcGIS Pro and ArcGIS Online. If you are interested in learning more about BIM-GIS integration – to extend your foundational GIS knowledge in your collaborations, engagements, or data collection activities – I have developed a training course in partnership with Steven Eglinton (Director of BimEnable & GeoEnable). You can read more about the BIM-GIS integration for AEC course here.
Take care, Paul