The Community Maps Program
The Community Maps Program was created for ArcGIS users to improve and enrich Esri basemaps using their own data. Over the last 10 years, millions of up to date basemap features have been added thanks to local authoritative content provided by the community.
Do you like the idea of adding your own data to our basemaps? Well, thanks to the Community Maps Program, you can! Join the community to provide feedback, create large-scale features and share your data layers and services for inclusion in Esri basemaps, including our suite of Esri Vector Basemaps, which are freely available to ArcGIS users as part of the Living Atlas.
The Community Maps Editor App
Using the Community maps Editor App, you can add detail for a special area of interest (AOI), create or edit features that we can add to the map. The app is easy to use and built using our web editing solution Sweet for ArcGIS. Using an imagery basemap you can add features such as buildings, universities, parks and walking paths- anything important to you and your community.
The app has advanced editing tools that make it easy to switch between straight and curved lines, snap to existing features, copy and paste features and choose from a huge list of pre-defined stencils. The tools are there to ensure you can quickly and accurately edit lots of different types of features for your special AOI.
The app has recently been updated so that users can add both Imagery and Feature Services, as well as upload development Plans. I've highlighted my favourite of the new features, along with how you can join the Community Maps Program below, so make sure you read all the way to the end!
Plans:
A lover of instant gratification, lets start off with my favourite new feature; Plans. Plans are drawings or documents that can be used as a reference image to create features in the Editor App. Plans can be in standard image formats like JPEG, TIFF, or PNG and do not need to be georeferenced (the joy!).
Take this image of my local football ground as an example, but it could be anything- a floor plan of your organisation, or a university map.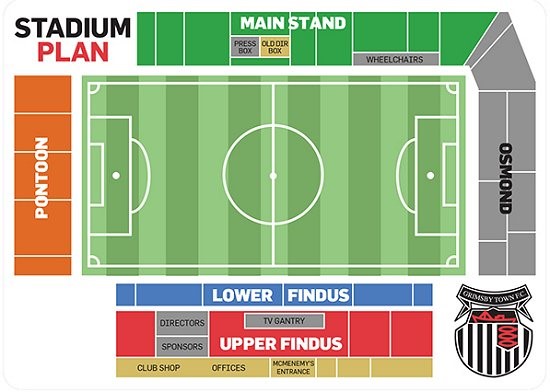 Geolocate your plans in the Editor App by skewing or free-hand rubber sheeting (cartographical term for distorting a layer to align it to an adjacent geographic layer of matching imagery) your image to the basemap.
Themes:
This change to the Editor App's user interface allows you to switch between a number of  Themes within the app if you prefer a different look. To check these out click your user avatar in the top right, then go to Settings and select a new Theme.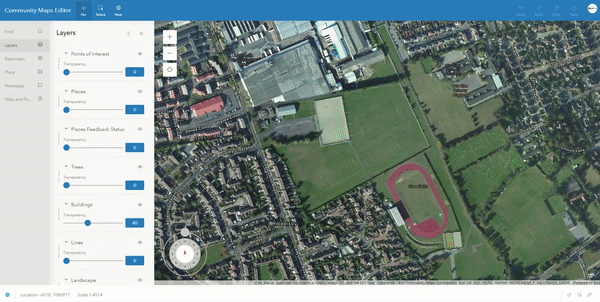 Imagery & Feature Services:
You can now add your own imagery and feature services into the Editor App. If you have some features in an existing Feature Service that you want to add, go to Layers and Add reference layer from your ArcGIS Online Content, a member of your Organisations' Content, or as a URL. Once found, select the service and uncheck available layers within it to only add the ones you need, and click Add. App. When carrying out live edits, you can use your Feature Services as reference layers to snap to, allowing for more accurate editing.
In terms of Imagery, we're aware many users will have their own Image Services that are newer or higher resolution than the World Imagery Service in ArcGIS Online. Again, to use your own Imagery in the Editor App, simply add it as a new Layer direct from your ArcGIS Online Content and use it as a reference to create features on top of your imagery service.
Within the side panel is an extensive Help and Feedback section, with links to contact the team supporting the Editor App, up to date What's New articles as well as a number of Help Articles.
For someone who's just joined the Program, or wants to try out a new feature, I can't recommend this section enough. Each Help Article goes step by step through the App's functionality and editing tools.
So, if you still like the idea of adding your own data to our basemaps, then join the Group here. Once joined, you will see the Community Maps Editor App, where you can make edits to the Esri basemaps, along with a Sandbox version of the app that allows you to test and learn the editing tools without saving any edits.
To see accepted edits, make sure to check out the Esri Community Maps AOIs feature layer within the group. The feature layer is regularly updated and can be added to a new Map/ Web App in ArcGIS Online or downloaded and displayed in ArcGIS Pro using this layer file. Both contributors and other users can export the data and re-use it for their own purposes.
Still not sure what to edit, or how? Check out our 2-minute Mapping Monday video which focuses on the Editor App, and contribute your community AOIs to our basemaps today!