As employment applications become increasingly digital and technology-focused, jobseekers need to find innovative ways to stand out from the competition. ArcGIS StoryMaps is a web-based platform that allows users to combine maps, multimedia content and storytelling to create engaging stories…or in this case, CVs!
What makes an ArcGIS StoryMaps CV a cut above the rest is the diversity in layout options and the opportunity to showcase your life in an engaging way.
CVs printed on an A4 piece paper are standard and cannot be replaced for a formal application, but what if I told you there was a way to make your CV dynamic, interactive and way more interesting for an employer? A way to make your application stand out amongst the crowd. I'm about to take you through a guide that will make you say 'woah, I didn't know you could do that!' Introducing ArcGIS StoryMaps for CVs.
Whether your CV is map-centric or not, ArcGIS StoryMaps has the slick and dynamic interface that your employers are looking for.
Getting started
Create a free public ArcGIS Online Account to get stuck in. More details on the capabilities of a free public account can be found here. Starting from scratch is the best way to begin a new CV. Trying to copy and paste from your old CV will make it hard to move away from that static layout, so use it as reference but remember – new CV, new you. This is a great tutorial on how to get started with ArcGIS StoryMaps.
Tell me about yourself
Ever thought that when you list one of your hobbies as walking your dog that your potential employers deserve to see how adorable your puppy is? Well, I did! The Sidecar gives you the option to give an employer a glimpse into your personality, by adding images that would be out of place in an ordinary CV. Use your images to aid what you are saying and supply context.
Provide a Guided Tour of Your Life!
If you are like me and come from a sleepy, tucked away hometown you'll see puzzled looks when you're asked, 'Where do you call home?'. Use the Map Tour feature to facilitate a guide to the locations linked with your employment and education history. Show them exactly where you got your first job or GCSE's!
Whether your CV is targeted at a geographic role or not, this seamless tour of your previous and current employment will impress any firm. Attach details to the locations on your map so information and skills you gained from an establishment are all in one place on one succinct tour.

Show off your skills
Give yourself an edge by offering employers an opportunity to scope out examples of your work; whether that be air quality analysis, store competitor maps or crime analysis.
No Interactivity? No Problem
The wonderful thing about ArcGIS StoryMaps is it doesn't just highlight maps. It can take any image you like and present a modern, minimalistic layout. If you do not want users to have access to features behind the map, simply snap a screenshot and add it as an image.
Benefits of Creating a CV in ArcGIS StoryMaps
The use of interactive maps, multimedia content, and other engaging features will keep your audience interested and engaged. This is a fantastic way to display your skills and experience in a dynamic and memorable way.
If you are applying for a GIS or geospatial job, having a CV that highlights your skills and experience in the context of geospatial data and technology can be a huge advantage.
Unlike a traditional, static resume, you can update your ArcGIS StoryMap as needed, allowing you to display your most relevant skills and experience.
With the increasing use of technology in job applications, having a unique and interactive CV can set you apart from other applicants and make you stand out to potential employers.
It can be easily shared online, allowing you to reach a wider audience and increase your visibility to potential employers.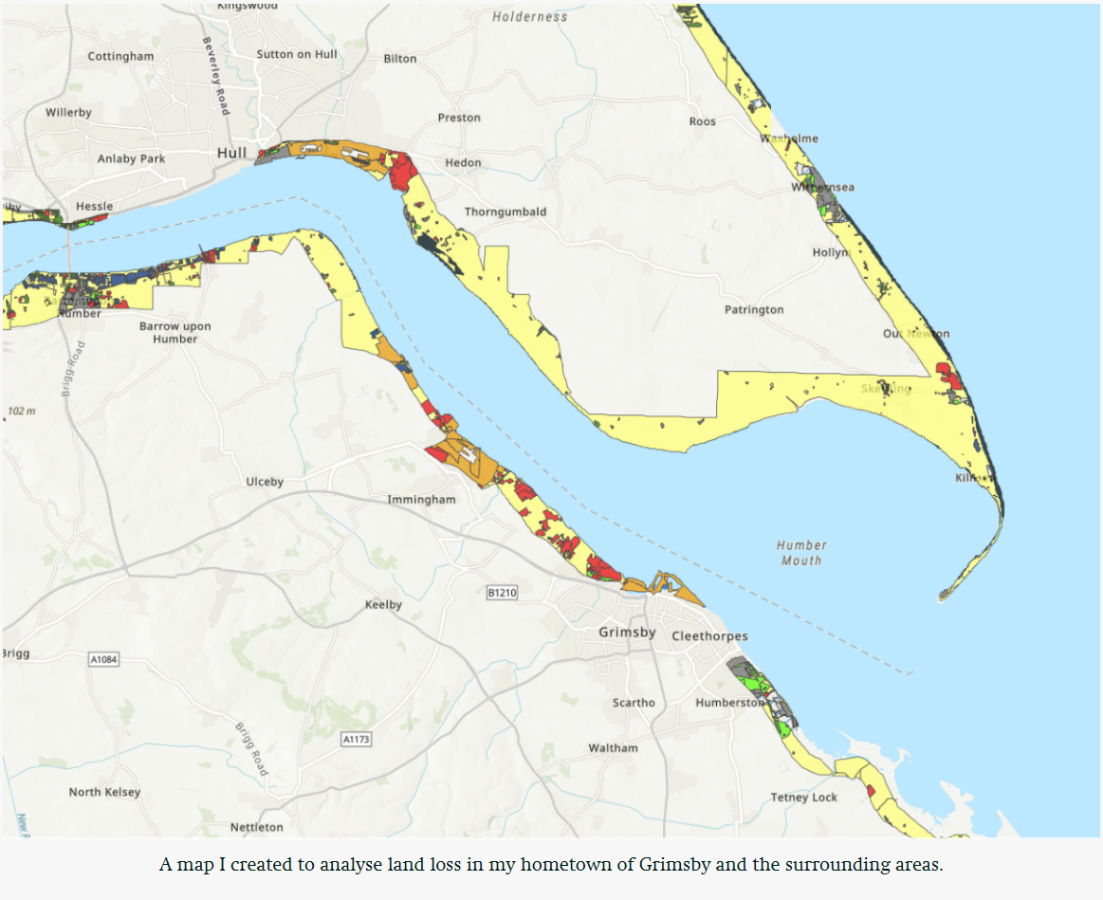 So why not give your CV the competitive edge it needs? I made my own CV in ArcGIS StoryMaps and can confidently say it was more stylised and accessible than the original A4 document that could have put even the most caffeinated employer to sleep. Check out my ArcGIS StoryMaps CV and pluck some inspiration to create your own!