Two exciting new capabilities, another Instant App and a new content experience should be enough to get this ArcGIS Online update into the yellow jersey. As The Tour De France unfolds I can't help myself but start by exploring French mountains…
Not just a Scene Viewer anymore
I never get tired of exploring data in 3D with the Scene Viewer but until now it lacked the feature editing that makes the Map Viewer more than just a viewer. No more. For point, line or polygon feature layers with elevation (Z-enabled) you can now digitise against the elevation surface or snap to other 3D features. The feedback showing elevation and snapping work well and adjusting vertices is easy using the 'handle'. It's arrived just in time for mapping Le Tour as it races across France…
…and if you visit the official site to look up any stage maps you might spot some familiar cartography.
Editing in a Scene isn't limited to Z-enabled features, you can edit 2D data with the added context of a scene too.
The other nice enhancement in the Scene Viewer is the ability to edit pop-ups – combining text, fields, charts and other media.  So you can now configure a similar pop-up for users whether they are using a 2D map or exploring data in 3D.
ArcGIS Image comes to Online
If you listened to Charles and Jack talking in our Box Set last year, one of the new developments Jack was excited about was the addition of imagery capability to ArcGIS Online. That day has come and ArcGIS Image for ArcGIS Online is launched. Available via a new user type, this exciting new capability allows you to host, manage and analyse imagery in a software-as-a-service system.
Imagery has been a key data source for many of you for years, but the ability to capture it more easily and cheaply using drones is bringing more people to using their own imagery. Being able to host and serve imagery in ArcGIS Online builds on the increased availability and makes it easy to put this valuable resource in the hands of your users. ArcGIS Image goes beyond hosting imagery by including a new suite of analysis tools (in Map Viewer Classic) to work with imagery and rasters in Online.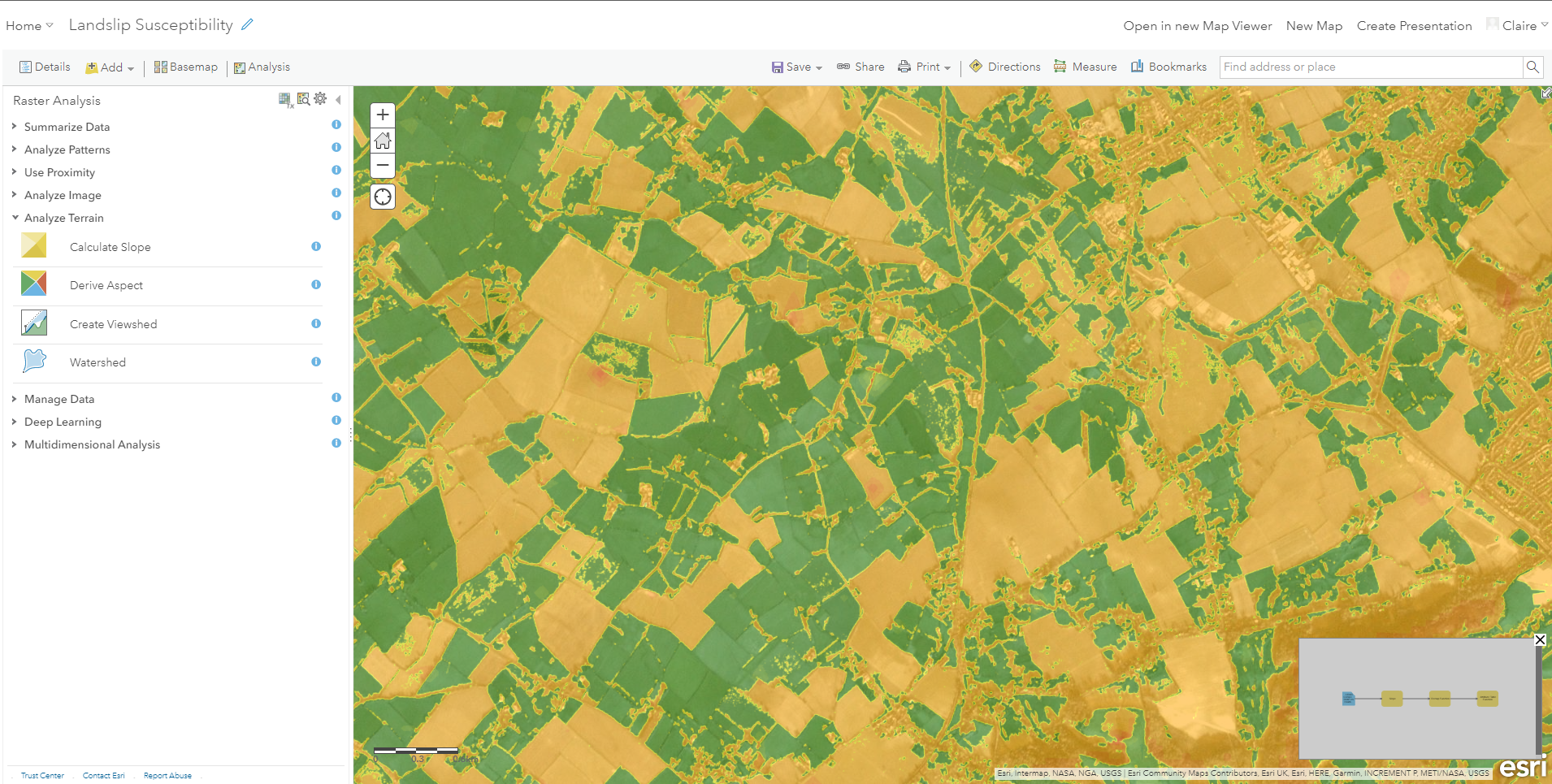 To find out more about what's included and how it works I'd recommend taking a tour with my colleague Claire Williams in this year's Box Set.
A new Instant App template
The Instant App templates make it super quick and super easy to configure a focused app to share your map. In this update, the Portfolio app comes out of beta. This Instant App gives us a great way to present a set of apps, scenes and storymaps as a single information resource or, err, a portfolio.
They've added the option to have a cover page on your portfolio so you can let your audience know what the resources are about upfront.
There is a new app template called Countdown, currently in beta, that provides a guided view of features ranked by an attribute. In the example below the user is guided through the areas with the highest proportion of people in full time employment. Which field is used for the ranking and how many features are listed are just some of the configuration options.
Look out for enhancements to some of the other Instant Apps. The Nearby App now lets you find features using the map extent, instead of a search radius from a specific location. You can also copy a link for a found location.
Enhancements to the Map Viewer
The new Map Viewer has been enhanced in this update to support full map image layer configuration. You can also now set a refresh interval on a layer. If you have floor-aware maps, you can select the floor in the Map Viewer.
New fonts for the Home Page Editor
The ArcGIS Online Home Page Editor helps you to create an engaging landing page for your users that more closely matches the branding your organisation uses. As a further enhancement to this, you can now choose a pre-set font theme or choose your own combination from a selection of common fonts.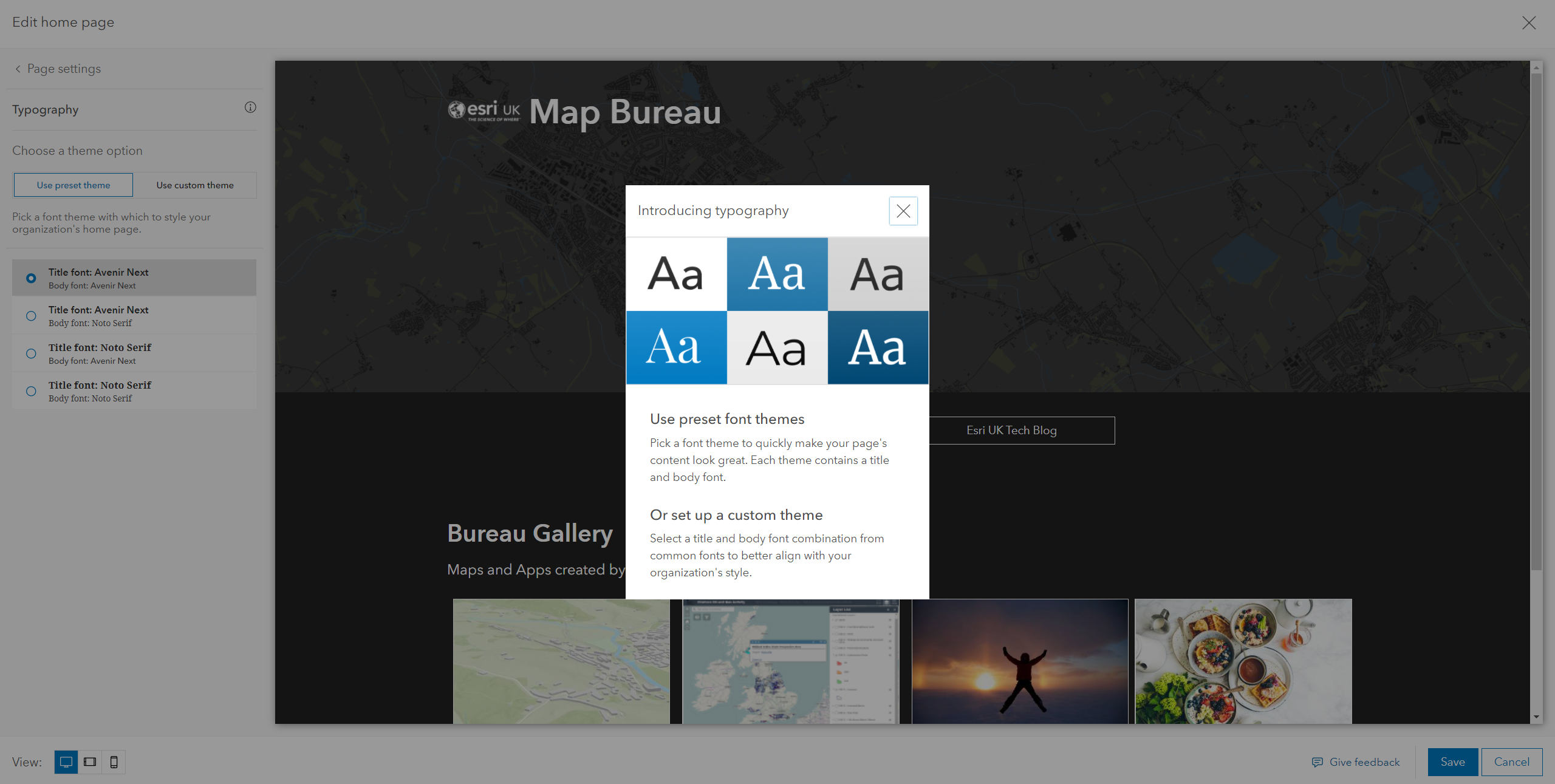 As always, please check the What's New page for the full list of changes, and if you want to see some of the new features in action take a look at this video.