Sun, sea, and Sweet. That sounds like the perfect summer to me! Especially as we've just released version 8.2 of Sweet, now available on both ArcGIS Online and Enterprise.
If you use Sweet on Enterprise you can install the latest release from our Licensing Hub.
What to expect?
As with all our releases, we've packed in loads of bug fixes that will improve your day to day experience (check out our release notes for the full breakdown). But we've also snuck in some really exciting new features to make your editing experience even easier than it already is.
Group layers
Earlier this year, ArcGIS Online brought in group layer support for the new Map Viewer. I'm happy to report that Sweet now also offers full group layer support! Add in as many group layers into your web map as needed, and Sweet will allow you to visualise and interact with those layers just like you can in the Map Viewer.
Updated UI for the Layers panel
We also decided a refresh of the Layers Panel was due. The new UI allows for much smoother workflows for all your layer management needs. Such as changing layer transparency, viewing layer legends, and even the ability to filter your layers list.
Support for Plans when taking your app offline
Going out into the field? You can now configure the Plans panel to work when a user is offline. This means you can digitise and add in reference documents anywhere, anytime. Just set up your app for use in the field and choose the option Yes for taking your Plans offline.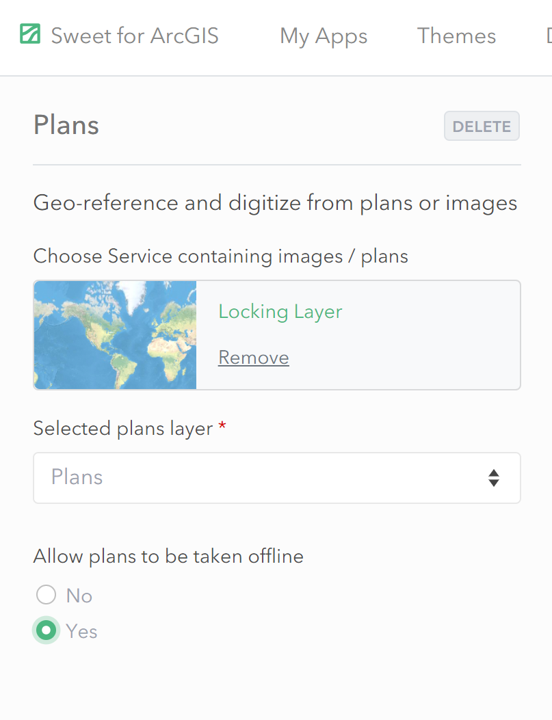 Applications Actions
Finally, we've introduced a new way to configure custom actions in your Sweet app. APPLICATION ACTIONS is the new home for customised tasks and actions that don't need to be manually triggered by the user. These actions run in the background of your app, and the user never has to interact with the code. It just works!
We hope you all really enjoy using the latest release of Sweet! If you don't currently use Sweet, but are interested to learn more, please speak to your CSM to see if Sweet is right for you. You can even take out a free 30 day trial!
Happy mapping!