The summer release of Sweet for ArcGIS Online is here, and it's a BIG one! Grab a snack, take a seat, and have a read of just some of the new features we're releasing. If you're interested in everything coming out, you can take a look at our what's new page.
Getting Started Experience
First things first, we have a new getting started experience for the Sweet builder. This makes it easier to build Sweet apps for brand new users. The tour will help familiarise app creators with the core features of Sweet that they can take advantage of. There are also interactive hotspots that pop up once a user has created their app and shows where features can be configured along with links to our helpful documentation.
Smart Templates
An amazing new addition to the roster of Sweet functionality is Smart Templates. This functionality can enable workflows such as the auto-creation of new features whilst making certain edits. For example, if a user is creating a feature representing a table, Smart templates can create chair features to be created automatically. The creation of new features based on other edits and visualising how those changes can affect the map you're working on, is enabled by allowing app builders to create custom template rules.  
See Smart Templates in action in our April webinar! If you want to learn more, have a read of our documentation to learn about all the ways smart templates can be used, and some code snippets to help you get started.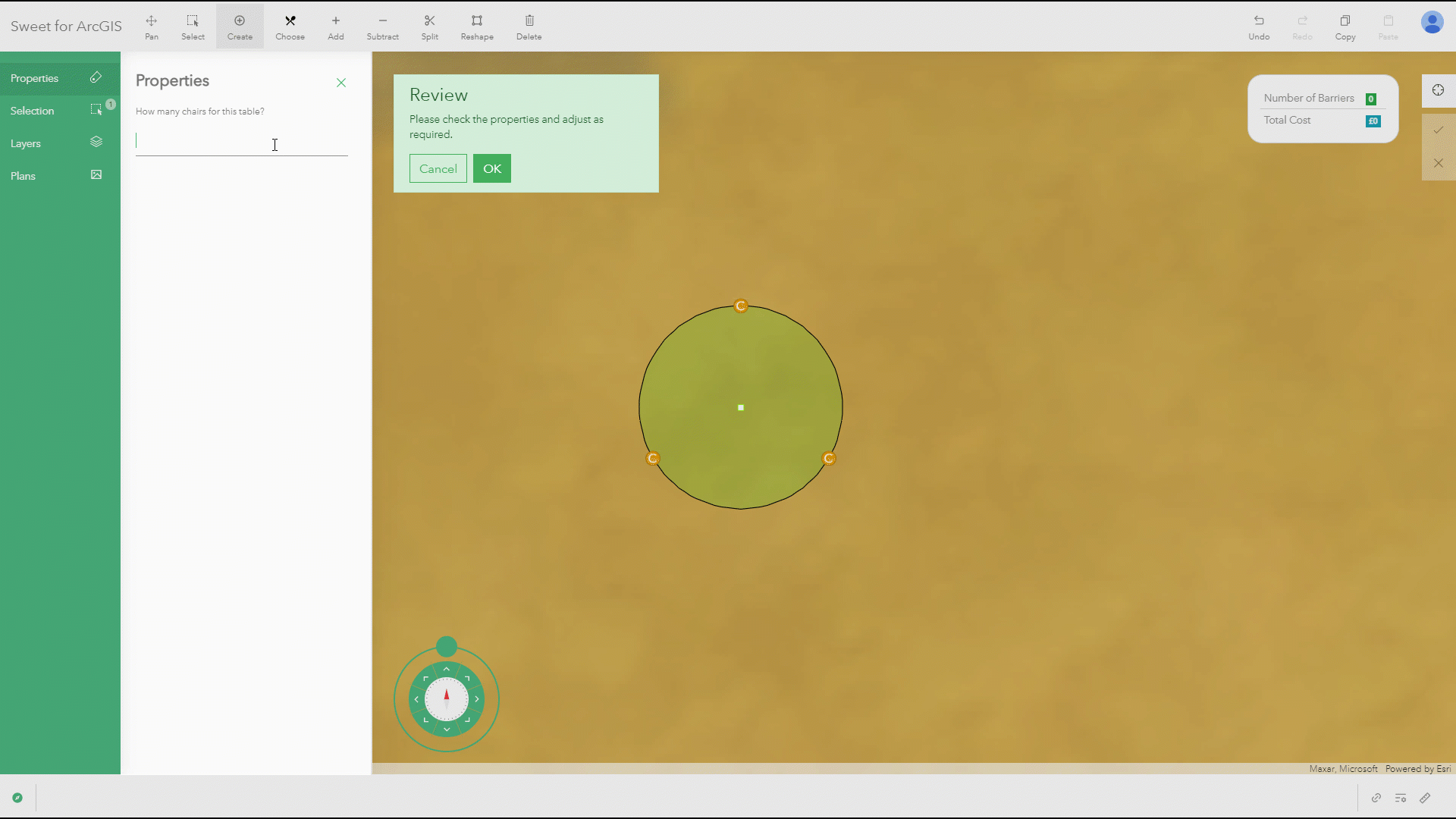 Improved map feedback
Map feedback is one of our most powerful features that shows the impact of a user's edits whilst they are editing. This gets even better with new feedback options added in this release. Users can now add custom graphics, labels, and other HTML-based features (like tables) onto the map. These features can appear depending on your criteria and can dynamically change depending on the edits you make. Take a look at our Sweet Box Set video to watch the new map feedback in action or continue to learn about our new map feedback options with our documentation.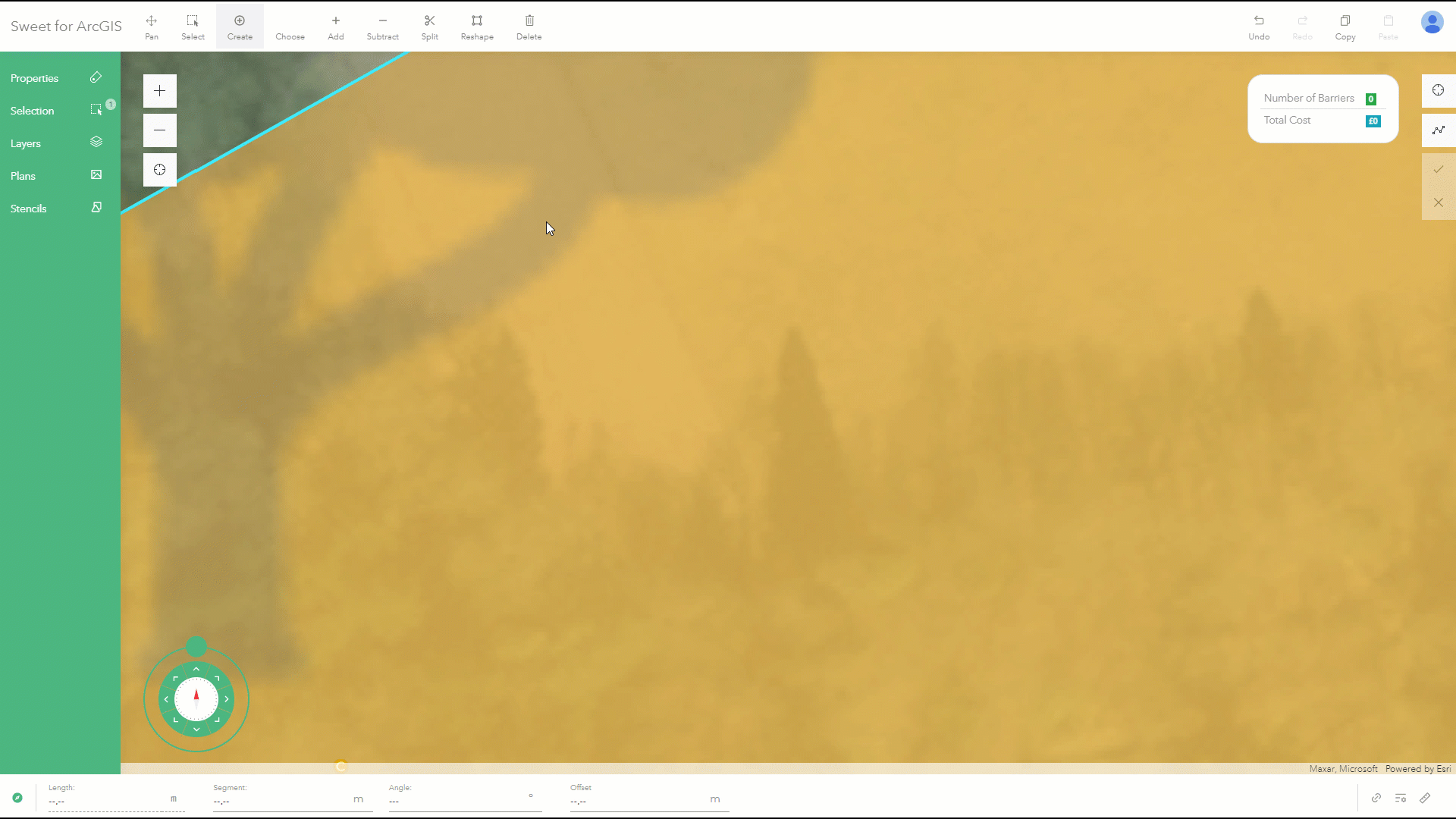 Offline apps
Take Sweet for ArcGIS out into the wild using the offline app available for Windows, Android Tablets, and iPads. The offline app enables users to collect and edit data anywhere, even when you have no internet connection. If you have a requirement to collect data out in the field, then check out the offline app today. More information on getting these apps is available here.
Right-hand panels
Up to now, if a user wanted to display an action or chart they would appear in the left-hand panel. But now Sweet offers the ability to add these same custom features in a right-hand panel too. Not only can this right panel show the same custom commands needed for editing, but they can be configured to show other maps and scenes in a user's ArcGIS Organisation. This means you can now view data and scenes side by side. 
Phase 1 enhancements
We're also releasing some enhancements to the Phase 1 Habitat Survey. We've improved the linear habitat feature creation, and made ID fields visible to be edited within the Sweet app. If you want to take advantage of the new changes you can get the latest template from the template gallery.
ArcGIS Enterprise
Sweet for ArcGIS Enterprise will be released at the end of July, where all of these new features will also be available. With the Enterprise release, we will also release new licensing for Data Editor Users – so only those who need to create Sweet apps will need the full builder license. Speak to your account manager if you would like to discuss whether Data Editor licenses will work for your organisation.
That just about covers all the major new features in this release. If you're a Sweet user and have anymore questions, feel free to contact your account manager to get more information. And if this blog has convinced you that Sweet is a fit for your editing needs, then do consider taking out a trial. 
Happy editing!