The first five days following an oil spill are absolutely critical in preventing an incident from becoming a major ecological and socio-economic disaster. If spills are not responded to rapidly and effectively within this short period of time, the oil could spread further, be more costly to clean up and cause greater damage to the environment.
The specialist organisation Oil Spill Response Limited (OSRL) is poised to provide a rapid response in the event of an oil spill emergency, anywhere in the world. When a spill occurs, it needs to be able to deploy the right personnel and equipment, from any of its twelve global locations, to the right place, within a matter of hours. This challenge is enormous at any time – but at the start of the global COVID-19 pandemic, it was immense.
"We needed to plan how to transport people and equipment to countries that had suspended commercial flights, closed their airports and ports and prohibited travel across their borders," says Liam Harrington-Missin, Technology and Innovation Lead at OSRL. "We also needed to communicate how we would operate safely if a spill occurred during the global COVID-19 crisis."
As the coronavirus spread around the world, governments in different countries introduced, adapted and then relaxed varying levels of restrictions on travel and shipments. Consequently, the transportation and logistics options available to OSRL were continually changing. OSRL's Members, who collectively represent over two thirds of the world's oil producers, needed to know how OSRL's services were affected by COVID-19 and if its specialist personnel and equipment were still available in the event of an emergency. "I started hearing the same questions over and over again," says Harrington-Missin. "It wasn't that we didn't have the answers, but we weren't communicating those answers out to a big enough audience efficiently enough."
Thinking on his feet, Harrington-Missin took a prototype Esri dashboard that he had been building for another project, repurposed it and launched it in less than two days as a way to communicate information to a lot of people in an efficient way. On the first of its three screens, the dashboard provides a graphical overview of OSRL's readiness to respond to an emergency. In a very visual way, it provides reassurance to the organisation's international members, that OSRL's response teams, equipment and aviation services are 'ready to deploy' if needed. The second dashboard screen provides easy access to logistics information about OSRL's key locations and access via nearby ports and airports.
The third screen on the dashboard features an interactive world map that people can click on to access country-specific COVID-19 response plans. These detailed contingency plans explain any temporary travel and logistics restrictions that are in place and set out how OSRL would adapt its usual operating plans in the event of an incident in the country. The dashboard clearly shows profiles that are completed and others in development. It also includes a facility allowing people to vote for the countries they would like OSRL to create COVID-19 response plans for.
"It was previously very hard to share readiness information; now it is just there," Harrington-Missin says. "If a Member has a spill, it is very easy for them to see that OSRL is ready to respond, how our logistics will work and what challenges we expect to encounter for each country."
Harrington-Missin has received very positive feedback on the dashboard from his colleagues at OSRL and Member organisations. During a period of unprecedented uncertainty and change in the global transportation and logistics sectors, the solution gives everyone greater clarity about how OSRL will overcome any travel and logistics challenges, on a country-by-country basis, to deliver a rapid response to any emergency. "We are getting a pretty constant stream of clicks on the dashboards," he says. "The dashboard readiness tool gives everybody one place to go, reduces the number of emails and minimises duplicated effort. It makes us much more efficient at communicating with Members at a very stressful time and alleviates some of the challenges we have during COVID-19."
The Esri dashboard has also contributed to improved collaboration with Members, according to Harrington-Missin. He explains: "Members who are in-country have used the dashboard to review the plans and have fed back enhancements based on their local knowledge, so we have been able to improve our contingency planning in a partnership way."
Innovating and delivering new solutions like the Esri dashboard are very much part of Harrington-Missin's day-to-day life. He sees it as his role within the organisation to discover new technologies and champion new ways of using existing technologies to improve the speed and effectiveness of OSRL's response to oil spills. GIS is one of the technologies that he is championing, because, in his view, "GIS is no longer a specialist technology, but an enterprise-wide tool that can be used by lots of people, at different technical levels in all parts of the organisation. I truly believe it can be transformative for oil spill response globally."
Harrington-Missin joined OSRL in 2012 as an Oceanographer, not long after the Macondo Well Incident, publicly known as the Deepwater Horizon disaster, that claimed the lives of eleven people and put oil spills at the forefront of global attention. His remit was to model oil spills, but he soon began to think more broadly than this, gradually expanding his team, bringing in people with GIS skills and acquiring Esri's ArcGIS technology a few years later. He has since developed a range of ArcGIS mobile apps that make it easier and faster for response personnel to collect incident data, from the shore and from surveillance flights. "I saw that GIS was hardly used at all in oil spill response and wanted to change that," he recalls. "I brought in GIS technology and GIS skills to enable us to visualise our data and improve the efficiency of our services."
Harrington-Missin now plans to further develop the dashboard so that it can continue to add value for Members when global transportation and logistics networks readjust and gradually return to normal. "The dashboard is a foundation for greater efficiency across OSRL and its Members as well," he says. "Long after the COVID-19 crisis, it will continue to provide OSRL and Members with an instant overview of the equipment that is available and the teams that are ready to respond."
Critically, the Esri dashboard is expected to save time in the vital early hours after an oil spill, by supporting faster decision making and enabling OSRL to deploy people and equipment rapidly. "When an incident occurs, the organisation concerned will be able to use the dashboard to get to the information it needs intuitively using the Esri dashboard," Harrington-Missin explains. "The faster that we can work together, the faster we can react to prevent the spread of oil and avert a major disaster."
Fortunately, large oil spills are rare, but being prepared to respond quickly and effectively at all times is essential. It is estimated that the Macondo Well Incident killed 51,600 to 84,500 birds, over 4,900 large sea turtles and more than 56,000 small sea turtles, as well as billions of fish and shellfish. The disaster also contributed to a significant decline in the populations of marine mammals including whales and dolphins. No-one wants to see an incident of this scale again, but if a serious oil escape does occur in the ocean in the future, OSRL is ready.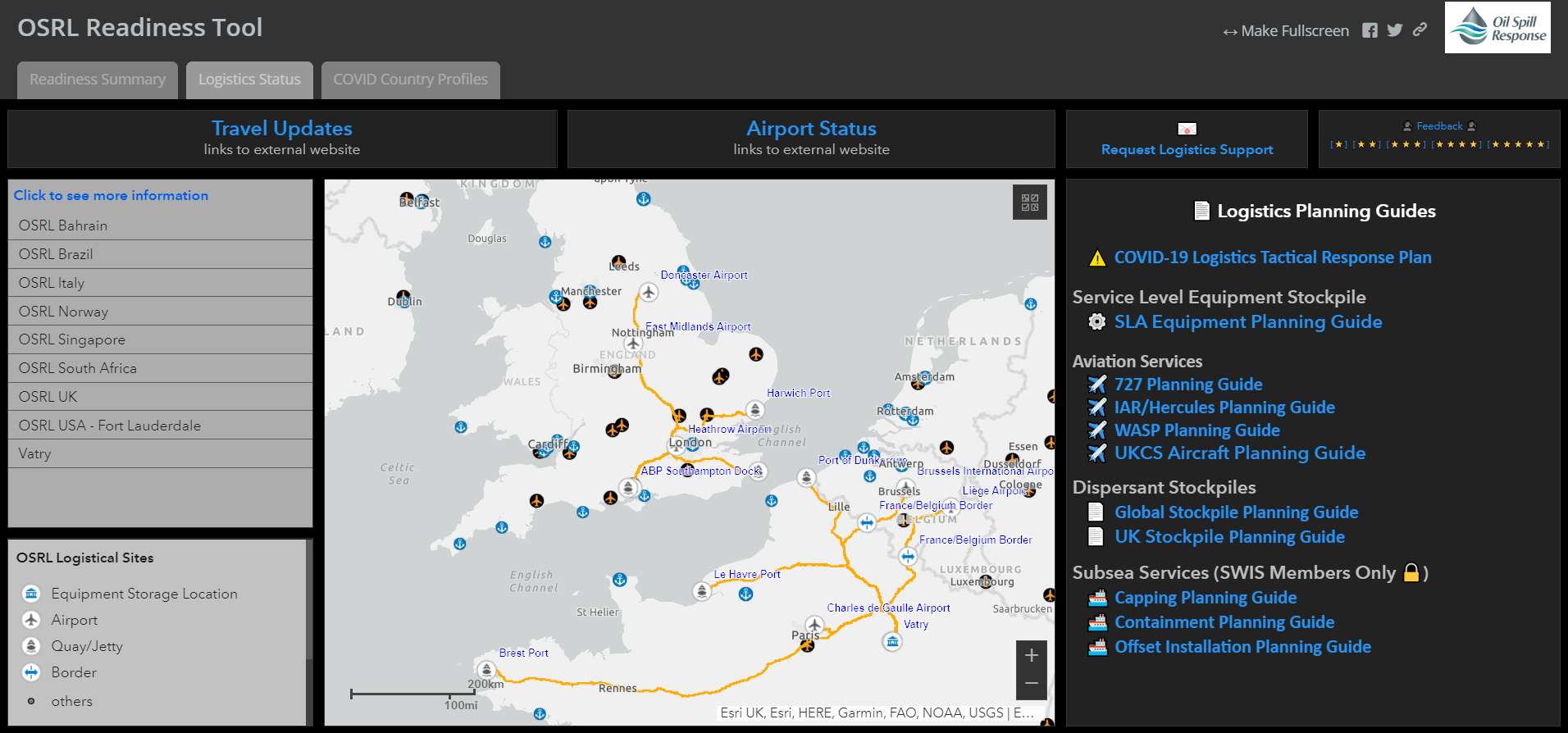 An Esri dashboard shows that OSRL is ready to deploy to an oil spill emergency during the COVID-19 pandemic.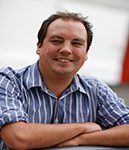 Liam Harrington - Missin