COVID-19 turned millions of parents into ill-equipped, unprepared and highly reluctant teachers. Forced by the closure of schools and the lockdown restrictions to support their children's learning at home, they needed to find a daily supply of activities to educate and engage their offspring at a time when all other opportunities were very limited. At the same time, teachers were forced to adopt new ways of teaching online and needed to very quickly generate or obtain materials that pupils could use for self-directed learning.
While parents and teachers alike were desperate for help, pupils were desperate for diversity. Robbed of the stimulation of being with their classmates and participating in classroom activities, they needed more than just the same old worksheets, day after day, to keep them motivated and engaged in learning.
The registered charity, The Rivers Trust realised that it could help teachers and parents provide inspiring, interactive lessons at home during the lockdown, by providing access to its existing educational resources and by using its in-house GIS capabilities to develop new interactive, multi-media teaching resources. It knew that it could provide materials that would directly relate to the curriculum for pupils studying geography at key stage 4 and 5, and therefore help these pupils prepare for GCSE and A level exams. However, it could also provide a wide range of valuable resources that would help to educate younger pupils about the critical importance of rivers.
"Education is one of our key charitable objectives," says Anneka France, GIS Analyst at The Rivers Trust. "Our vision is wild, healthy, natural rivers valued by all. It is therefore vital for us to make sure that young people understand what rivers are and how important they are for both people and wildlife, so that they will want to look after their local rivers in the future."
The preservation of rivers and riverside environments in the UK is an incredibly important environmental challenge, but it is often overshadowed by more prominent global issues, as France explains. "When people think of climate change and ecological damage they think of deforestation in the Amazon, not house building in the home counties. There is a lot of damage taking place to rivers in our own local areas that people are not aware of. We aim to enable many more young people to learn about rivers and gain a greater appreciation of the importance of these ecosystems."
Prior to the COVID-19 crisis, France had been building a collaboration platform using ArcGIS Hub, to help the Rivers Trust share resources with its 60 local member trusts. She recognised that she could quickly use the ArcGIS Hub to allow all these river-based charities to share their educational resources online. "A lot of the rivers trusts around the country already run fantastic educational programmes with local schools and have some great materials," France says. "We saw that we could use ArcGIS Hub to make all these resources available online and provide a one-stop-shop of teaching materials and lesson ideas for teachers and parents."
The Rivers Trust Schools Hub (https://schools.theriverstrust.org/) was launched very quickly, providing free access to a wide range of materials from interactive presentations to science experiments that you can do in the kitchen. For young children, there is even an online game about Tilly the Trout who needs to travel upstream overcoming obstacles on the river to reach her spawning ground. "The ArcGIS platform is ideal for spinning up new initiatives quickly," France says. "If we had tried to build a new website from scratch it might have taken weeks. Using the ArcGIS Hub and its ready-made templates, we launched the new education hub in just a few days."
Recognising that geography students would find it very hard to prepare for field trips while learning at home, The Rivers Trust used ArcGIS to create a Virtual Field Trip Story Map. Developed within days at the onset of the COVID-19 crisis, this GIS tool embeds lots of multi media and interactive tools, enabling pupils to plan a field trip, identify the best field study sites and decide which survey techniques to use. France and her colleague Lucy Butler built this Story Map in collaboration with Eden Rivers Trust and with input from a panel of teachers and the Field Studies Council, and it has been well received by geography teachers.
The Schools Hub also includes another ArcGIS Story Map, which provides an interactive exploration of the River Eden and helps pupils to learn geological vocabulary relating to river courses. France and her colleagues are currently reviewing the wealth of other GIS resources from the Rivers Trust movement that have been produced for schools to see which can be simplified and adapted to make them suitable for home-based schooling, and they hope to make many more resources available via the Schools Hub soon.
Certainly, the lockdown has been a busy period for France, who joined The Rivers Trust just over two years ago. At university, she studied both biological sciences and geography, encountering GIS in a second year module of her course. "One of the things that first interested me about GIS was its interdisciplinary nature. As a joint honours student, working in many different areas, I could see so many different applications for the technology," she says.
France subsequently completed a master's degree in GIS and climate change and then honed her GIS skills on the tropical island of Zanzibar, in East Africa. Here she used ArcGIS in land cover research, as well as an educational programme funded by Comic Relief. "I have been lucky," she admits. "I've had some great opportunities.There is so much variety in the work you can do with GIS."
Even just a few months ago, France could hardly have anticipated that she would have been using her GIS skills now to develop home-schooling resources. Yet, she is delighted to be rising to the challenge and helping teachers and parents while schools are closed. By building her 'one-stop-shop' for education materials and creating new multi-media resources using GIS, she is helping to ensure that pupils don't fall behind in their geography curriculums. Equally, she is providing materials to keep younger children occupied, while all the time communicating the importance of river environments to the next generation.
Teachers, parents and indeed many pupils will no doubt be very relieved when schools reopen fully. Yet, in the meantime, while school-based education remains disrupted, France hopes that many more families will take advantage of The Rivers Trust's Schools Hub to learn about Britain's rivers. It is, she says, so important for young people to understand just how threatened our river environments are. "People are used to hearing about plastic in the ocean, but don't know about the problems caused by plastic in rivers. When they think about endangered species they don't generally think about fish, but freshwater fish are declining in number more quickly than any other animal group. At the moment only 14% of rivers in the UK are considered to be a in 'good' ecological state. Through education, hopefully all this will change."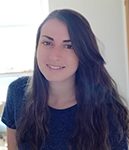 Anneka France - The River Trust