Days after the Government told everyone in the UK to stay at home to halt the spread of COVID-19, new, temporary powers were granted to the police to help them enforce this lockdown. Like all police forces around the country, Thames Valley Police suddenly had to start responding to lockdown infringements, patrolling areas where social distancing rules might be flaunted and allaying the concerns of members of the community. Most importantly, the force needed to find a way to allocate its community policing resources as effectively as possible to help it protect the 2.34 million people in its jurisdiction during this unprecedented event.
"The lockdown shook everything up," says Nick Portnell, an Operations Analyst at Thames Valley Police and a champion of GIS within the organisation. "We had to enforce new rules, address new issues in the community and do all this while working from home or applying social distancing measures ourselves."
Portnell quickly realised that GIS could play a key role in helping Thames Valley Police to better understand the volume and locations of issues relating to COVID-19 throughout its region. He was convinced that if he could make accurate information accessible to police officers very quickly, he could help the force make more well-informed decisions about how to respond to incidents, reassure local communities and keep people safe.
Thames Valley Police had used Esri's ArcGIS platform for many years, and Portnell was well aware of the capabilities of the platform. "I knew that there was functionality within our new Enterprise ArcGIS system that we hadn't exploited yet and that could potentially add a lot of value to us during the COVID-19 crisis," he says. Armed with this knowledge and a bucket-load of enthusiasm, he created a simple ArcGIS dashboard that transformed the way that Thames Valley Police supported local communities during the period of the lockdown.
Named the COVID-19 Compliance Dashboard, the solution has a central, interactive map showing all reported COVID-19 incidents or enquiries up to the close of the previous day. Police officers with the correct permissions can log in to view the dashboard and can filter the data by police areas, dates or category of COVID-19 incident. Significantly, the dashboard shows hot spots where larger numbers of incidents have occurred. This key feature enables the force to direct police officers to problem areas such as streets where different neighbours have all reported signs of potential gatherings. Police can also monitor stores where there have been repeated altercations in queues and see parks where regular patrols might be necessary to stop people lingering and socialising.
Proud of his achievement, Portnell believes the dashboard has been a huge help to the force during the lockdown, enabling it to focus its time in the right places and educate the right people about the lockdown restrictions. "If we are better informed as a force about COVID-19-related incidents, we can respond more effectively," Portnell says. "Every time we prevent a reoccurrence of a lockdown breach, we are successfully reducing the risk of the virus spreading and protecting the community."
Detective Chief Inspector James Cosham, Head of Force Intelligence Hubs at Thames Valley Police has been very supportive of Portnell and has praised the solution he developed. "The dashboard that has been created to allow my department to review the COVID-19 response and call data has been invaluable," he says. "My teams are now able to quickly create hotspot mapping to direct and task local police officers to areas where there are high concentrations of reported incidents."
Cosham and his team have found the ArcGIS dashboard easy to use. "The ability to zoom to a neighbourhood boundary level and review the types of incident reported is excellent," he says. "Having the dashboard in a web browser makes it easily accessible and I've found the interface to be quite intuitive and easy to pick up."
Remarkably, it only took Portnell a few days to develop the ArcGIS dashboard, with support from Esri UK and his colleagues in the Service Improvement Department. "From start to finish, the dashboard took less than a week – on top of my normal duties," he says. "That's a testimony to how easy ArcGIS is to use. I had never created a dashboard before, but found it very straightforward."
Prior to joining Thames Valley Police, Portnell worked as a military analyst, in counter intelligence, during a twenty two year career in the Royal Airforce Police. He first encountered GIS at Thames Valley Police when he was assigned to work as part of a team responsible for planning security at the Olympic rowing venue Dorney Lakes, in the lead up to the 2012 London Olympic and Paralympic Games. When the force GIS technician left, just months before the games began, Portnell took up the reins. He has been spearheading the use of GIS in the Force Intelligence and Specialist Operations (FISO) group at Thames Valley Police ever since.
GIS technology has come a long way in the last eight years, and Portnell believes that it will play an increasingly significant role within all police forces in the future. "The way GIS technology is evolving is really exciting," he enthuses. "I see it as a 'force multiplier' – a tool that will multiply the activities that a police force can undertake, by making routine tasks like data sharing and reporting much simpler and freeing up police time, enabling us to accomplish more."
Portnell anticipates that the force's positive experience of using an ArcGIS dashboard during the COVID-19 crisis will now drive the implementation of similar GIS solutions within Thames Valley Police for routine policing, such as planning high-profiled events and coordinating special operations. The COVID-19 Compliance Dashboard has therefore, not only supported community policing during lockdown but has also inspired a new generation of dashboards that will optimise community policing in the Thames Valley area, long after the lockdown has ended.
---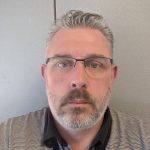 Nick Portnell - Thames Valley Police