When appeals were made for volunteers to come forwards to help others during the COVID-19 crisis, the enormous scale and speed of the response was profoundly moving. According to the national volunteering charity Volunteering Matters, over a million new volunteers stepped up to fulfil a variety of roles in the UK in just six weeks. Thousands of people used a volunteering app to offer support to the NHS in England; some people joined existing charities, like Age UK, helping them to scale up the services they already provided; and other people joined new local community groups that formed quickly to meet a specific need, such as delivering medications or sewing hospital gowns.
As someone who is passionate about volunteering, Lewis Westbury was amazed and heartened by the wave of people offering to support others in their communities. In his day job, he is a software developer at Government Digital Services, a branch of the Cabinet Office. However, for over nine years, he volunteered as a Special Police Constable with the Metropolitan Police and, eighteen months ago, he set up a network of volunteers, called Police Rewired, which develops free-to-use IT solutions for public safety organisations.
Westbury's experience of both volunteering and policing gave him a real insight into some of the new challenges and opportunities that police forces all around the country faced as a result of the sudden surge in volunteering activities. He instantly recognised that police forces would need to be aware of where newly formed volunteer groups were springing up, so that they could give the coordinators advice about how to keep volunteers safe and explain what volunteers should do if they encountered people who were at risk while carrying out their volunteering activities.
With support from two Esri UK employees, Westbury used ArcGIS Online to produce a web-based dashboard displaying the locations of over 3,750 local groups providing voluntary services across the whole of the UK. Community-based police officers can select their own force area from a dropdown box on the dashboard and pan around the interactive map to view voluntary groups in their localities and obtain contact details. With this information at their fingertips, police officers can then reach out to local groups and provide timely, relevant safety information to support the nation's new army of volunteers.
"In many respects, the dashboard is a community relations tool for the police," Westbury says. "It is available to all police forces in the UK for free and can be used to help them build strong, supportive relationships with people in the communities they serve."
The Police Rewired dashboard draws on data from a variety of sources including COVID-19 Mutual Aid UK, Local Halo and local council hubs, crowd-sourced by another volunteer group called TheyHelpYou. Westbury invested a lot of time in cleansing this data to remove duplications and errors. He then shared his data set, called COVID-19 Combined Volunteer Groups, via the Esri Living Atlas, making it available for others to use as part of their own ArcGIS projects. Using his data set, Westbury also developed a simplified web map for anyone to use, to find their nearest volunteering group. This highly intuitive, easy-to-use online tool makes it very easy for potential new volunteers to find a local group they can join or contact their local council-run volunteering hub to request help.
As Westbury doesn't use GIS technology as part of his usual job with Government Digital Services, he mastered a steep learning curve to deliver this solution. "My personal development on this project has been huge," he says, noting that he learned a lot about Python, data cleansing and data management as well as ArcGIS. "I found that ArcGIS Online offered me straight-forward map-building tools, which I could use out-of-the box to consume my data and create easy-to-use online maps."
Westbury was first introduced to the capabilities of Esri's ArcGIS platform during a series of Police Rewired hackathons, in which teams of volunteers brain-stormed, built and tested potential IT solutions for the police. The most recent Police Rewired hackathon event was supported by Esri UK and attracted over 50 volunteers who shared Westbury's enthusiasm for innovating. "I love technology and have a real passion for public safety that grew from my time volunteering with the Metropolitan Police," he says. "I also really believe in volunteerism and think that people with technology skills can really add value by donating their time and expertise to the police. It can be very rewarding to take part in a hackathon and have a positive impact on the technology used for public safety."
Several of the solutions that have emerged from recent Police Rewired hackathons are based on or embed ArcGIS technology. For example, one successful innovation is an ArcGIS-based app that encourages and enables people to play an active part in tackling quality of life issues in their areas. Called Communities Resolving Issues Together (CRITr), the solution was presented at New Scotland Yard in November 2019 and is currently being trialled in Greater Manchester.
When the COVID-19 threat lessens, a large proportion of the hastily formed COVID-19 support groups around the country will inevitably disband, and the need for the Police Rewired dashboard will diminish. However, Westbury believes that the solution will leave a legacy within communities. "Through the use of the Police Rewired dashboard, police forces in the UK can obtain the information they need right now to help them build positive, supportive relationships with volunteers in their areas," he says. "When COVID-19 has passed, these relationships will endure and help to ensure trust between the police and the community."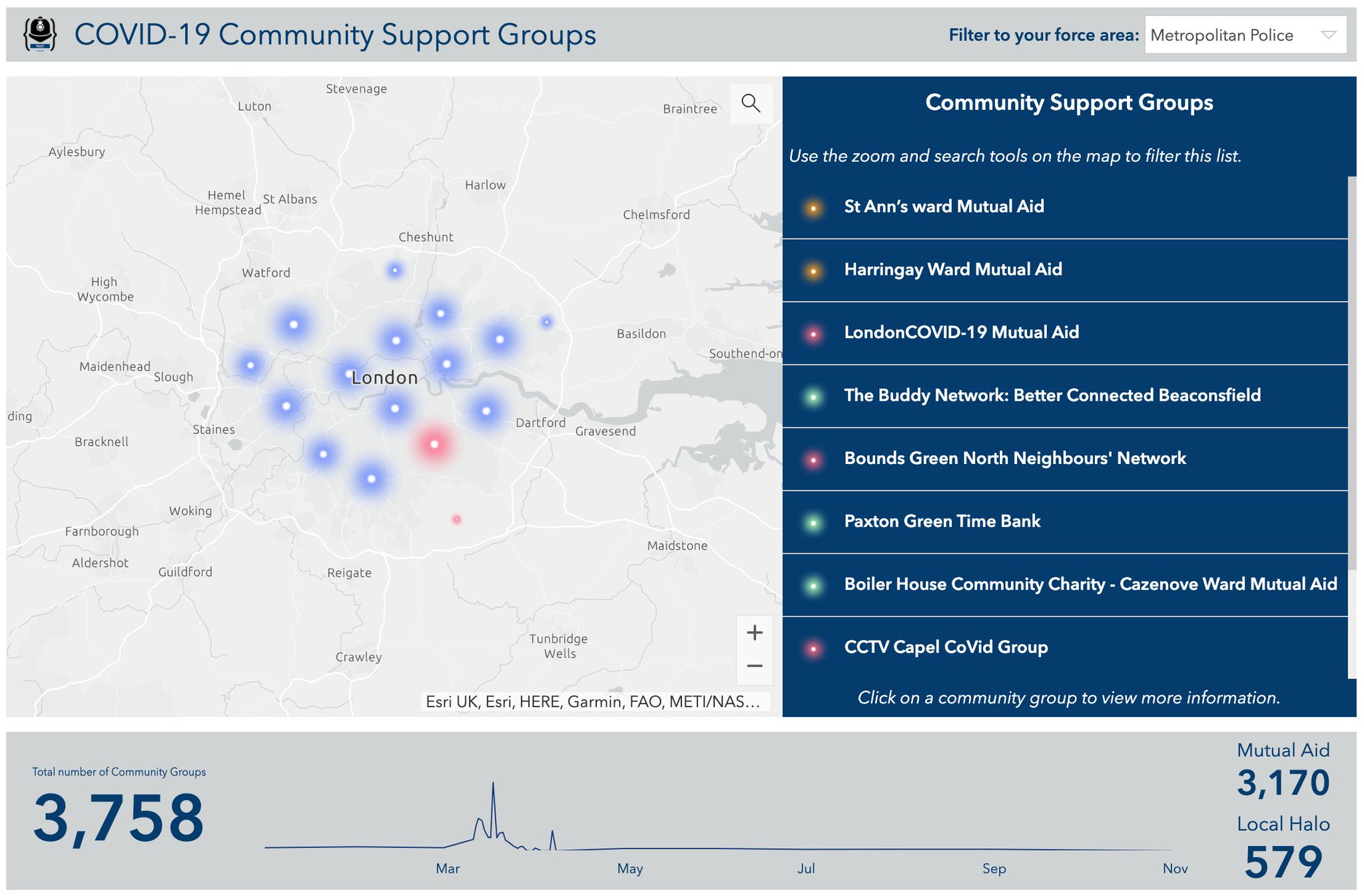 The COVID-19 Dashboard created to support UK police forces. The data set was shared via the Esri Living Atlas
---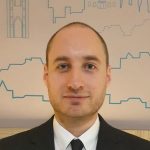 Lewis Westbury - Police Rewired