The ArcGIS Living Atlas contains geospatial content from some of the UK's most recognisable organisations. Our purpose is to support your work with accessible and authoritative maps, apps and data layers from a leading collection of spatial data.
Esri UK has been very excited to work with the Ordnance Survey to nominate their first dataset into the Living Atlas – OS Open Greenspace! As Britain's most complete open dataset of greenspace, its primary purpose is to enable members of the public to find and access nearby greenspaces for exercise and recreation. This dataset is of huge interest for analysis, and as such, my blog dives deeper into the data and explores a couple of the possible use cases…
Here's my first look at the data in ArcGIS Pro, around the city of Oxford: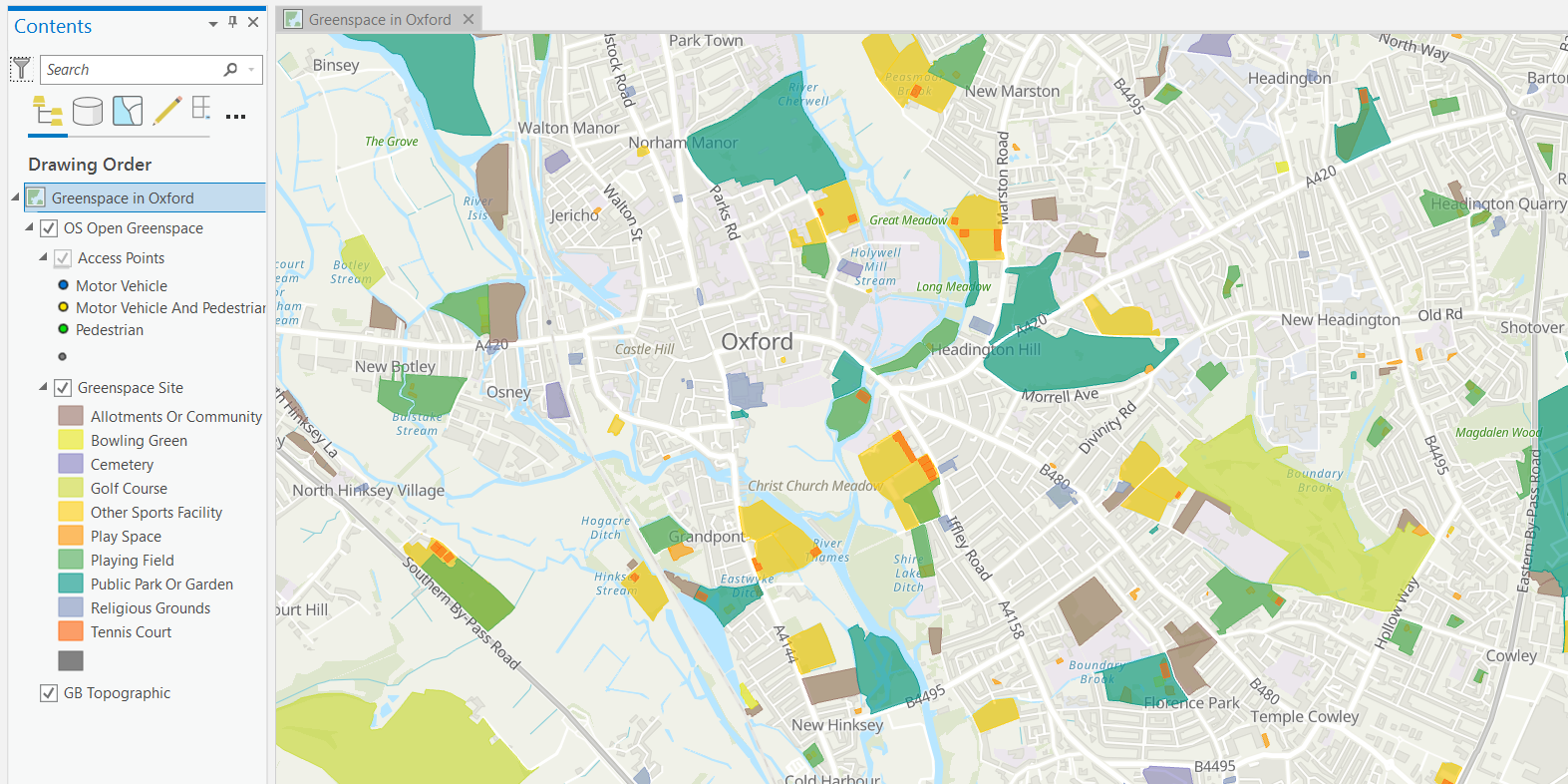 Greenspace Sites in ArcGIS Pro
OS Open Greenspace contains a mixture of site use characteristics such as bowling greens, golf courses, playing fields, tennis courts and religious grounds. These locations are all symbolised as unique values and, as we can see above, Oxford hosts a wide spread of greenspaces. I was eager to find the nearest tennis court in my town after the excitement of Wimbledon!
Note – if you're wondering, like I was, why some outdoor areas are not marked in the data – bear in mind this is mainly looking at publicly reachable greenspace. It doesn't include residential gardens, countryside and farmland, or other privately-owned greenspaces. The Ordnance Survey have also produced OS MasterMap Greenspace – showing publicly accessible and non-accessible greenspaces.
Zoom in closer to the greenspace sites and the access points layer becomes visible. This is where you can explore the listed points of entry for each site that are accessible to both motor vehicles and pedestrians: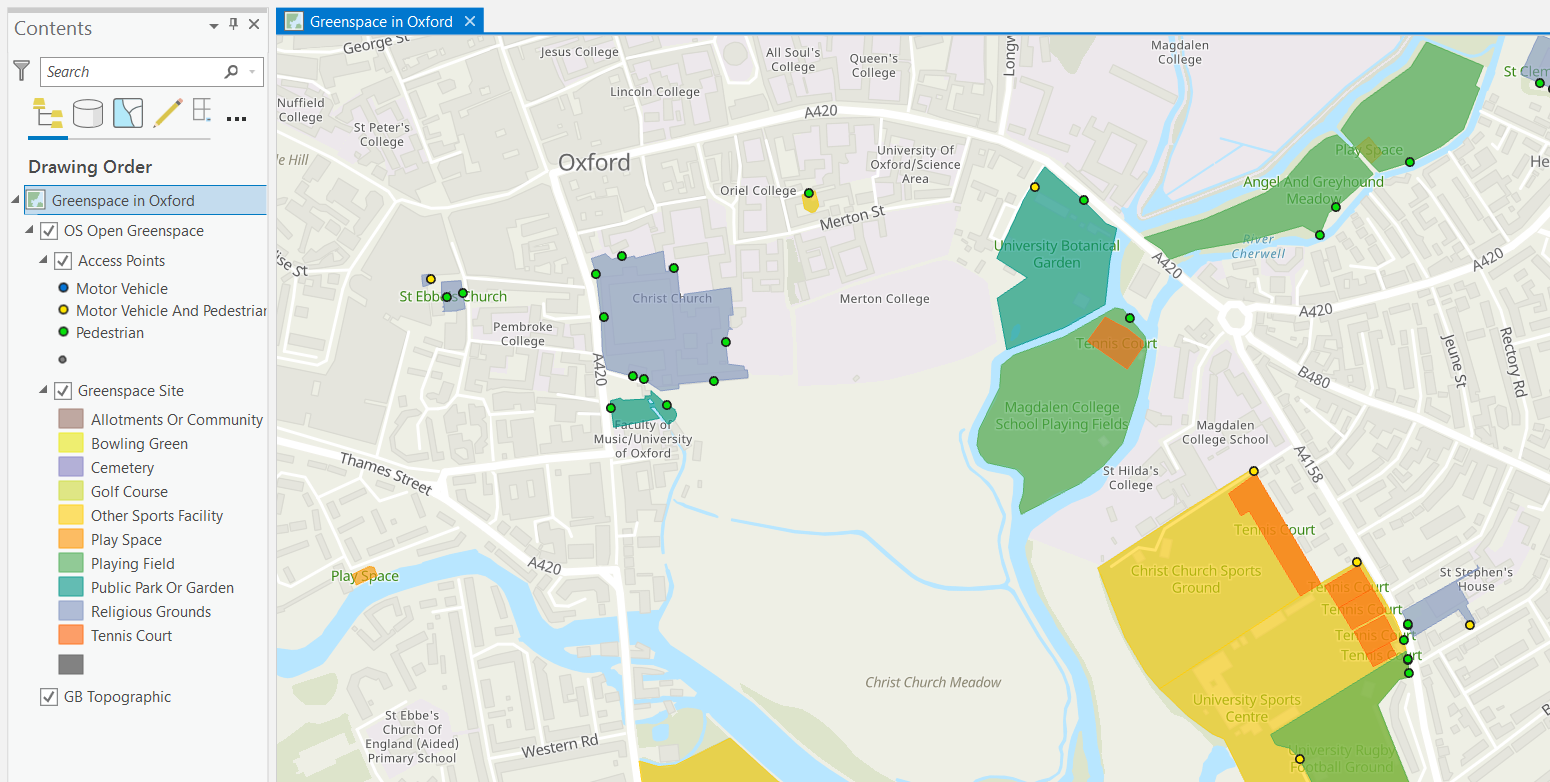 Access Points and Greenspace sites around Oxford
The Ordnance Survey created the data to help promote a more active, greener and healthier nation. It is a valuable dataset to stimulate creating thinking and innovation to meet current challenges as well. One of these challenges is faced by the emergency services, who use this data as a vital tool in helping to understand the location of access points to make it quicker to get to emergency situations. I've looked at two examples of how OS Open Greenspace can be used to solve crucial spatial questions…
Improving Ambulance Response Times with OS Open Greenspace
In this fictional scenario there is a medical emergency at the Cardiff Lawn Tennis Club. The ambulance service has been called to the scene and the team must get to the incident as quickly as possible as the patient needs emergency care. The medical responders need to park the ambulance close to the tennis club so they can carry the patient back to the ambulance and transport them to hospital. A quick look at the area using the Imagery Hybrid basemap, shows there is only pedestrian access off the nearby North Road (the tennis club is the orange area that has been selected):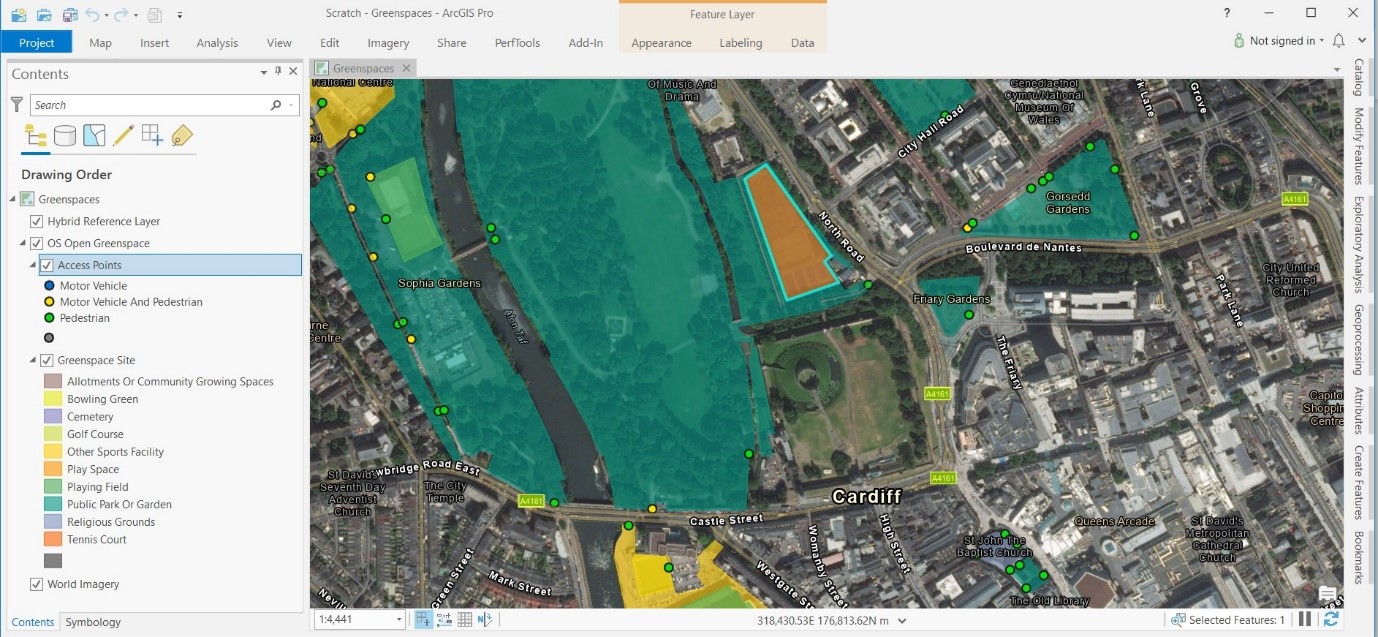 Vehicle access on Castle Street to the Tennis Club
However, the data shows that the medical responders can gain access through a motor vehicle entrance on Castle Street and then drive through Bute Park to the Cardiff Lawn Tennis Club car park.
Finding efficient routes using GIS and available data saves the emergency services time and reduces complications, helping provide the best possible care to those in need. This scenario could be further enhanced with the combined use of Navigator for ArcGIS to guide the emergency services to the nearest motor vehicle access point.
Informing Policy Makers on the Value of Greenspace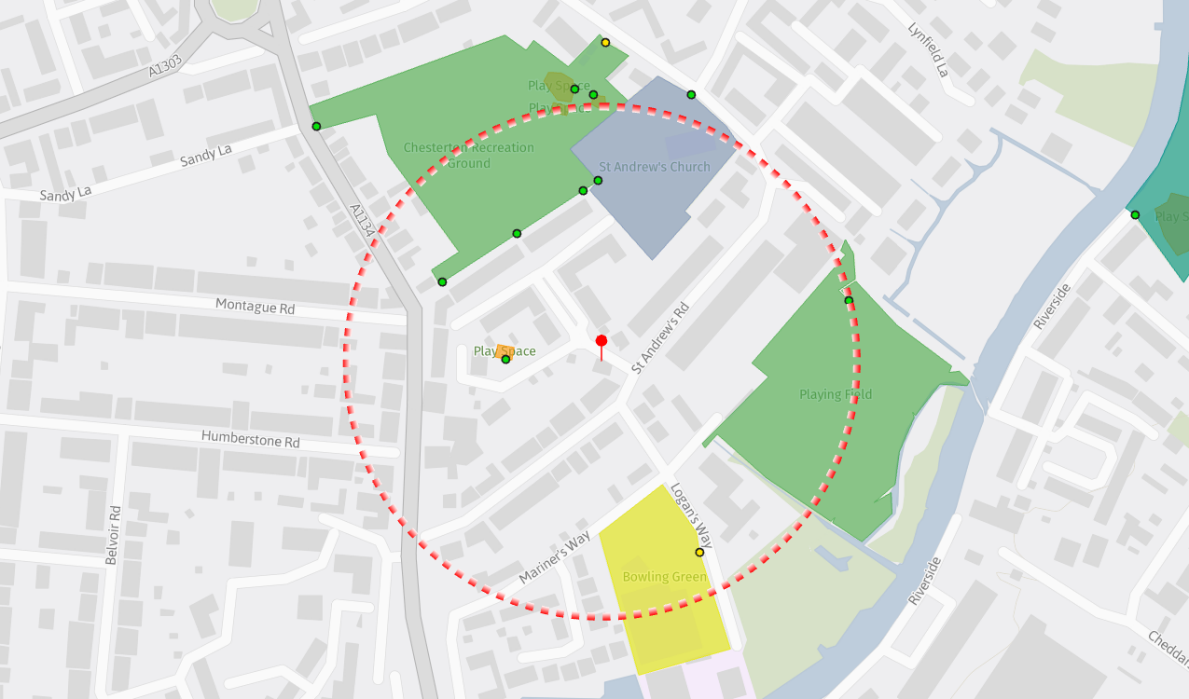 ACCESSIBLE greenspace NEAR a residential property in Cambridge
Another scenario where the OS Open Greenspace dataset could be used, is helping the private and public sectors to monitor the condition of green spaces in the urban environment. Recognising the importance of services aids policy makers in prioritising investment and making an informed decision. We can answer questions such as 'how many publicly accessible greenspaces are within 250 meters of a residential property?'.
Similarly, policy makers and local planners may be asking 'where is the nearest urban greenspace access point to a set of residential properties?'. You can use ArcGIS Pro in this situation with the Network Analyst extension and the location-allocation tool:
Location Allocation – nearest urban greenspace access point to residential properties.
I wanted to show how use cases can be enhanced with the newest addition to the Living Atlas – the OS Open Greenspace dataset – and how this data can help in answering real-world questions using GIS. Next time you are working with in the ArcGIS Platform, it may be very beneficial to consider the Living Atlas items to enhance your analysis and provide further spatial context.
If you have any questions on the OS Open Greenspace dataset, or if you have a dataset you'd like to submit to the Living Atlas, you can contact us directly at datacurator@esriuk.com. You can also explore the OS Open Greenspace further with this Operations Dashboard.