Data collection is easier than ever thanks to technology which allows users to carry out operations both in office or out and about. But how can organisations ensure their workers safety and maximise efficiency? Enter, location sharing. If this is your first-time hearing about location sharing, this blog offers an overview into what location sharing is and where it's used within the ArcGIS system.  
For users already familiar with location sharing, the second portion of this blog may be more up your alley. We'll look at recent changes to licensing, and specifically how these updates impact users migrating from ArcGIS Tracker.
Part One – The Basics
What is location sharing?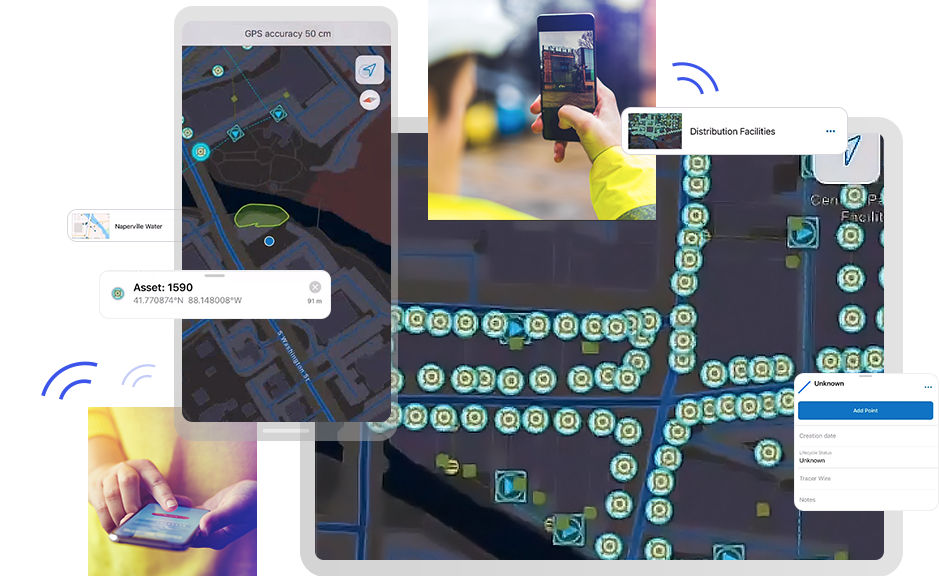 Location sharing creates a spatial link between organisations and their remote workers, reporting on past and present user location. Now, in case of emergencies, you'll be able to use collected tracks to account for all your mobile users. You'll also have a better understanding of area coverage and so much more. 
Location sharing provides organisations with updates as to where their remote users are and have been. This enhances workflows with real-time operational awareness. It is an organisation-wide capability within ArcGIS Online and ArcGIS Enterprise. Use cases that benefit from this capability include, but are not limited to: monitoring special events, providing proof of work and determining area coverage.
Which applications support location sharing?
Location sharing is available within ArcGIS Field Maps and ArcGIS QuickCapture. Plans are also underway to expand this functionality into ArcGIS Survey123 by early 2023. 
How does it work?
Before diving any further, it is important to note that location sharing is an end user choice, hence the name location sharing. To use this capability, it must be enabled by the organisation, and each user must allow their tracks to be uploaded to the central location sharing layer.  
To enable this feature, your organisation must have at least one ArcGIS Location Sharing User Type Extension. This license is included in the Mobile Worker user type and is available as an add-on for all other user types. Once enabled, a location sharing folder is created which stores layers and track views. Track views contain information about the last known locations, or 'tracks,' of a set of mobile users. While administrators can access all tracks within the service, mobile users can only see their own tracks, unless given access by an administrator.  
Organisation administrators are responsible for enabling, managing or disabling this feature. Further instructions for operating location sharing are available for ArcGIS Online and ArcGIS Enterprise. 
Organisations can also configure geofencing, restricting location sharing to pre-defined areas, such as high-risk zones. When workers enter the geofenced region, they can either be prompted to enable location sharing or it can start automatically. Location tracks will only be recorded for users while within the boundary, unless otherwise approved by the user.  
Which licence do I need to access location sharing?
To access the location sharing feature in ArcGIS Field Maps or ArcGIS QuickCapture, you'll need a ArcGIS Location Sharing User Type Extension, which can be applied to any User Type. For Mobile Workers, the extension is not required as the capability is already included within the User Type (ArcGIS Online and ArcGIS Enterprise 11.0 and later).
---
Part Two – Licensing
If you've been using location sharing capabilities within the ArcGIS system this year, you may have noticed some changes. This section will examine how the June 2022 update has impacted location sharing as it relates to User Types and licenses.  
What's changed – ArcGIS Tracker
ArcGIS Tracker was Esri's initial solution for location sharing in ArcGIS. Users with the ArcGIS Tracker App add on license and Tracker mobile app could share their location with others. However, following the introduction of ArcGIS Field Maps and its expanded capabilities, the Tracker mobile app was retired and removed from Google Play and Apple App Store.
What's changed – ArcGIS Tracker App Add on Licence
With the retirement of the ArcGIS Tracker app, we are also saying our goodbyes to the ArcGIS Tracker add on license. But, you can greet its replacement –  the Location Sharing User Type Extension. This extension was introduced in June 2022 and can be combined with any of our User Types to access the location sharing capabilities in Field Maps or QuickCapture.
If you have already purchased Tracker licenses, not to fret – you have continued access to location sharing within these apps until renewal. For ArcGIS Online customers, Esri has provided an equal number of Location Sharing User Type extension licenses automatically to their subscriptions. To avoid disruption in service, we'd encourage customers to assign the Location Sharing extensions to their ArcGIS users before the Tracker app licenses expire. 
What's changed – User types
Additionally, if you've used Esri's field apps for a while, you may be confused as to where the Field Worker User Type went. It's been renamed the Mobile Worker User Type to reflect the broad use of mobile GIS capabilities. There are no functional differences between the two User Types, and no administrative actions are needed. The Mobile Worker User Type provides access to ArcGIS Field Maps, ArcGIS Navigator, ArcGIS Survey123, ArcGIS QuickCapture and ArcGIS Workforce. As mentioned above, this User Type provides access to the location sharing capability.
How can users migrate from Tracker?
It is highly encouraged that you begin to transition to Field Maps if you haven't already done so. While the Tracker app will still operate on Android and Apple devices until manually deleted, the Tracker app add on licenses will expire and disappear at the point of renewal. Explore how to transition to supported apps here.
To learn more about Field Maps, check out the following resources: