One of the exciting new features in the ArcGIS Online update is Partnered Collaborations. This digital infrastructure, built into ArcGIS Online, allows us to establish formal relationships between two or more organisations. The current Sharing Model allows organisations  to securely share items with individuals from another organisation using a Group. Partnered Collaboration broadens the sharing capabilities, enabling members of organisations to work closely and securely with each other's content and members in groups. It's worth noting that making this shift isn't mandatory: organisations comfortably operating on the sharing model, can continue to do so.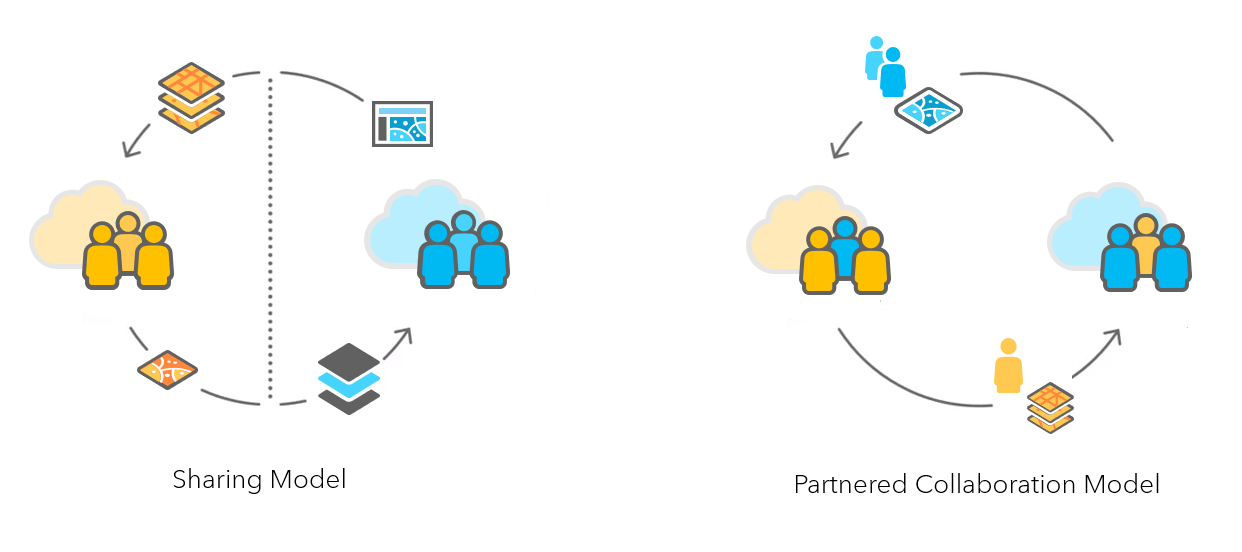 In Partnered Collaboration groups, members from different organisations can collaboratively edit items and build web maps and publish apps. Essentially in the same ways you can create material together in groups within your own organisation. You might wonder, what kind of team structure is this based on and in what context are Partnered Collaborations relevant?
Let's walk through an example scenario…
Imagine you are the geospatial officer at a city council and you have previously worked together on ArcGIS Online projects with the data analysts of a nearby national park. It's time to set up an official Partnered Collaboration with them. To initiate this, you must have the role of Collaboration coordinator in your ArcGIS Online account, which can be granted by your organisation's administrator. Navigating to your account settings you will find this panel: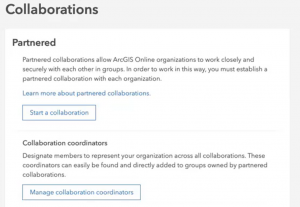 If you press start collaboration you can search for the national park's ArcGIS Online URL and send them a collaboration invite: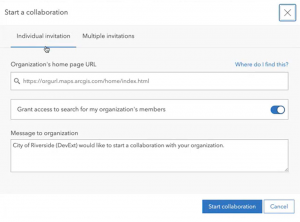 By accepting your invite all that the national park team does at that point, is enable you and themselves to determine which of your respective organisation's members should be visible to one another. This is necessary to browse any ArcGIS users with non-public accounts, whom you'd like to add to collaborative groups.
Now that the collaboration is official, it's time for your city council and the national park to set up  some groups in which your employees can begin to work on shared collateral. When creating a new group there is now the option to set group membership to Partnered collaborations and my organisation's members only. This allows you to easily connect to ArcGIS accounts from organisations that you have the collaboration set up with, without having to send every individual a separate invite.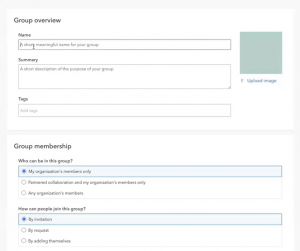 One group may be set up for both of your estates teams to have a space to share infrastructure content that is relevant to one another. For example, feature layers of ongoing construction, damaged infrastructure, park paths, and so on. In another group you might wish to bring together your environmental services officers with the park's conservation team to create educational web apps and Story Maps together, about themes such as bird spotting, breeding sites, park rules…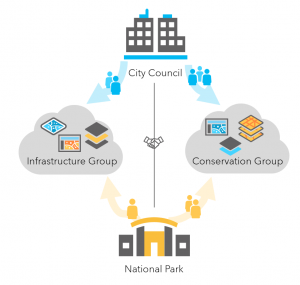 It may be the case that you're not completely familiar with each and every member of the national park's work force. By promoting a member of your partnered organisation to group managers, they can authorise the inclusion of additional people from their organisation into the group. This means you, as group owner, don't have to facilitate all member management, but can delegate some of that responsibility to the national park's representatives.
The members of the groups now have a space to share their ArcGIS web maps, feature layers and other content in. And additionally, you as collaboration coordinator have some useful features at hand to give you a bird's eye view of the group structures that develop across your partnered collaboration with the national park. You can search for group members based on their organisation affiliation (e.g. national park), by using filters and the badges that appear besides their account info:
Collaboration between multiple organisations
Partnered Collaborations are not limited to just two organisations. Multiple organisations can collaborate in multiple group formations. It may be the case that the infrastructure and conservation groups that you and the national park collaborated in, both have additional stakeholders that should be included in those groups' workspace.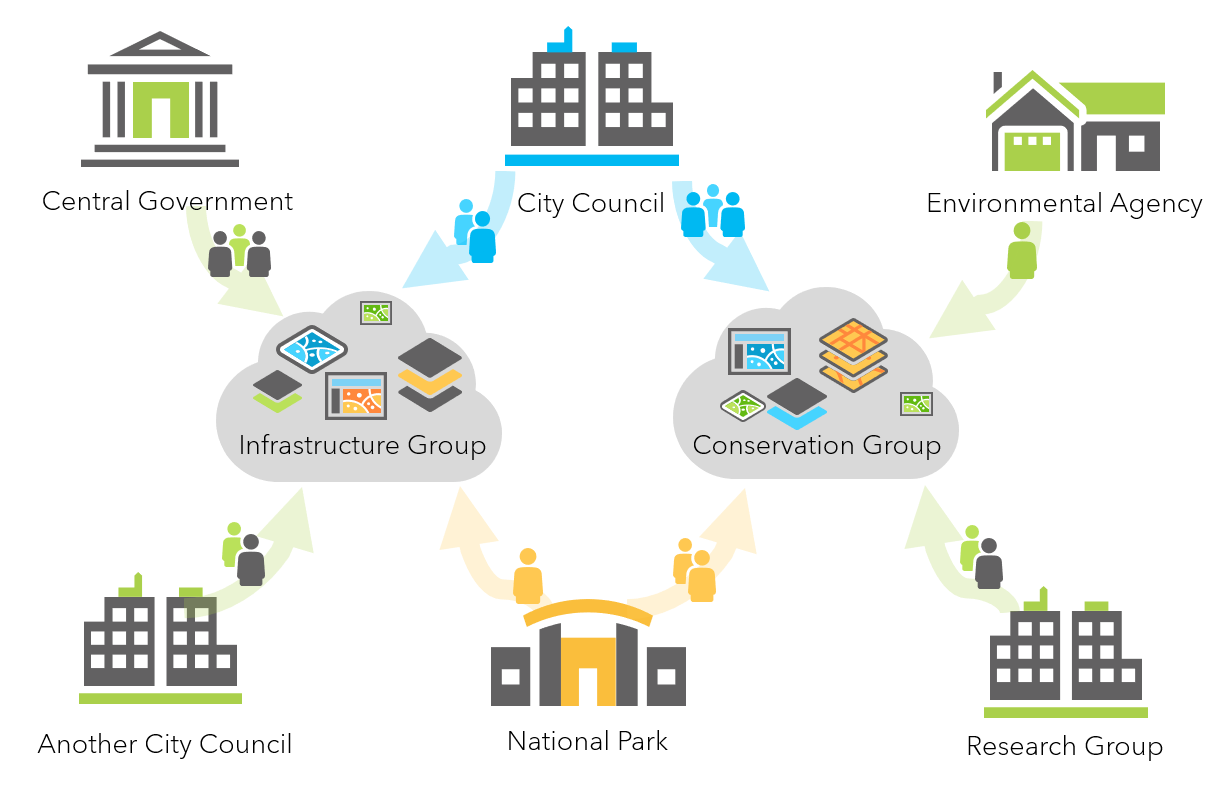 The infrastructure group, for example, also shares content with agents of the central government planning team, who want to create and manage district wide datasets with all levels of government… Partnered Collaboration between some or all participating organisations is the solution to creating these cross-organisational project teams!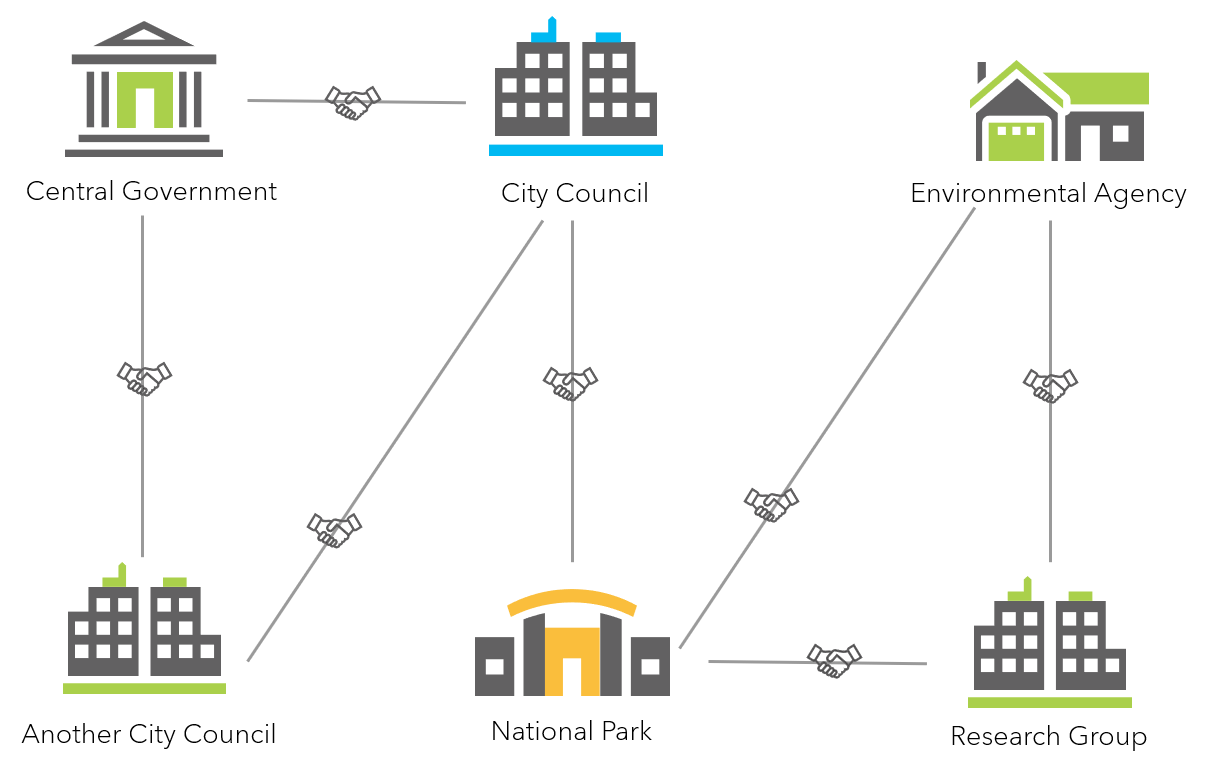 At any point, it can be decided to end a partnered collaboration. Partnered Collaboration has built in a series of menus to review what will happen to group members and content to assure the collaboration is ended in an orderly fashion.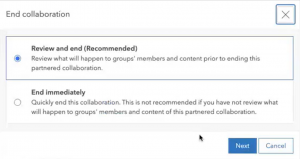 Of course, we prefer to see effective partnerships flourish and not end! So hopefully this blog post has given a clear overview of the capabilities of Partnered Collaborations for you to think about how you could use streamlined group management and content sharing with your organisation's partners.