The ArcGIS Online update that went in last night is a mighty one – with two key app updates coming out of beta and a new capability for collaborating with partners. Where to start…
The new Map Viewer
The new Map Viewer has been available to use in beta for a while, or an age if you're as impatient for new things as me, so I'm sure lots of you have had a look already. It's now out of beta and you can opt to make it the default Map Viewer at the Organization or user level.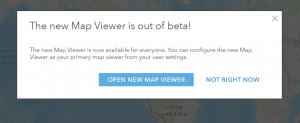 A couple of weeks ago I shared a tour of the new Map Viewer and hinted there were new things coming. The one I'm most excited about are the interactive charts (currently beta). It's often helpful to be able to view data relationships graphically and spatially at the same time. I've been using these more and more in ArcGIS Pro and I really like the way you can select features in the chart and see that choice reflected in the map.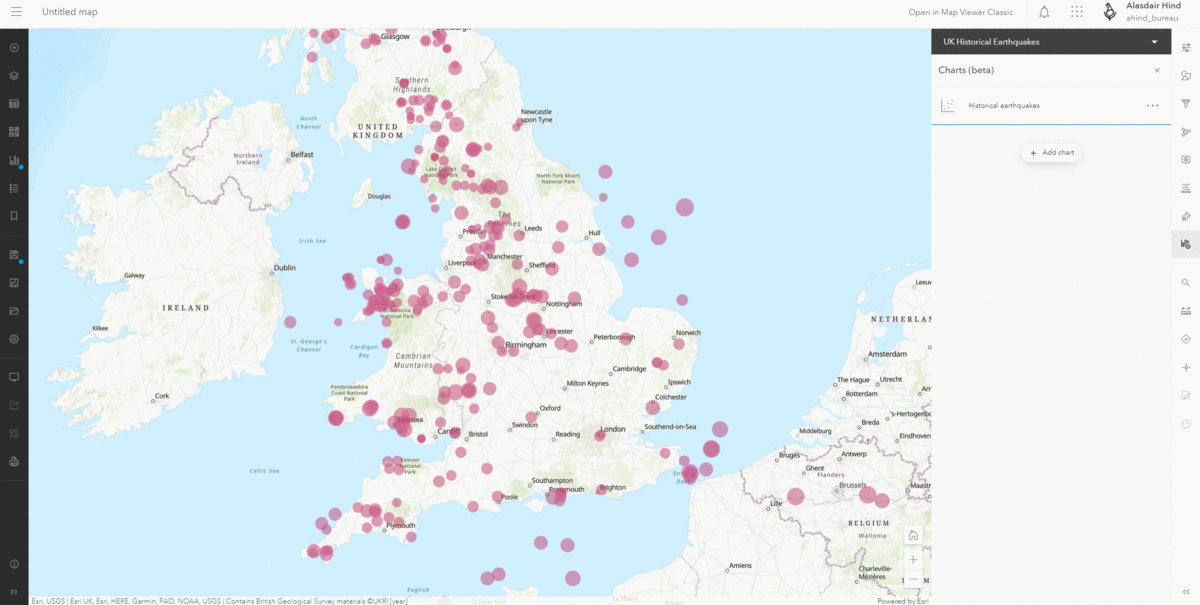 They've added a Sketch Tool to draw features and add stamps. There is also an option to create an app directly from Map Viewer using the newer app templates, ArcGIS Dashboards or ArcGIS StoryMaps. If you want to use the app builders you need to go through the Create menu in Contents or the waffle. Remember that some of the web maps features that you can now add with the New Map Viewer aren't supported by the older app templates or Web AppBuilder. If you are wondering why the split, it's down to the underlying tech. The new Map Viewer, Experience Builder, StoryMaps and the new app templates are built on the ArcGIS API for JavaScript 4.x. The older Map Viewer, app templates and Web AppBuilder were built on 3.x and this doesn't support the same capabilities.
Map Viewer Classic
The original Map Viewer becomes Map Viewer Classic and you have the option, at the organisation and individual level, of which Map Viewer is your default. Whichever you choose you still have the option of opening the other. If you want to make use of the analysis tools or customise a vector basemap you'll need to use Classic. Just remember to be careful about opening a map in Classic that was created with the new Map Viewer and uses the new options.
Instant Apps
To reflect their role the new app templates have been renamed Instant Apps – these are the ones with a graphic icon style.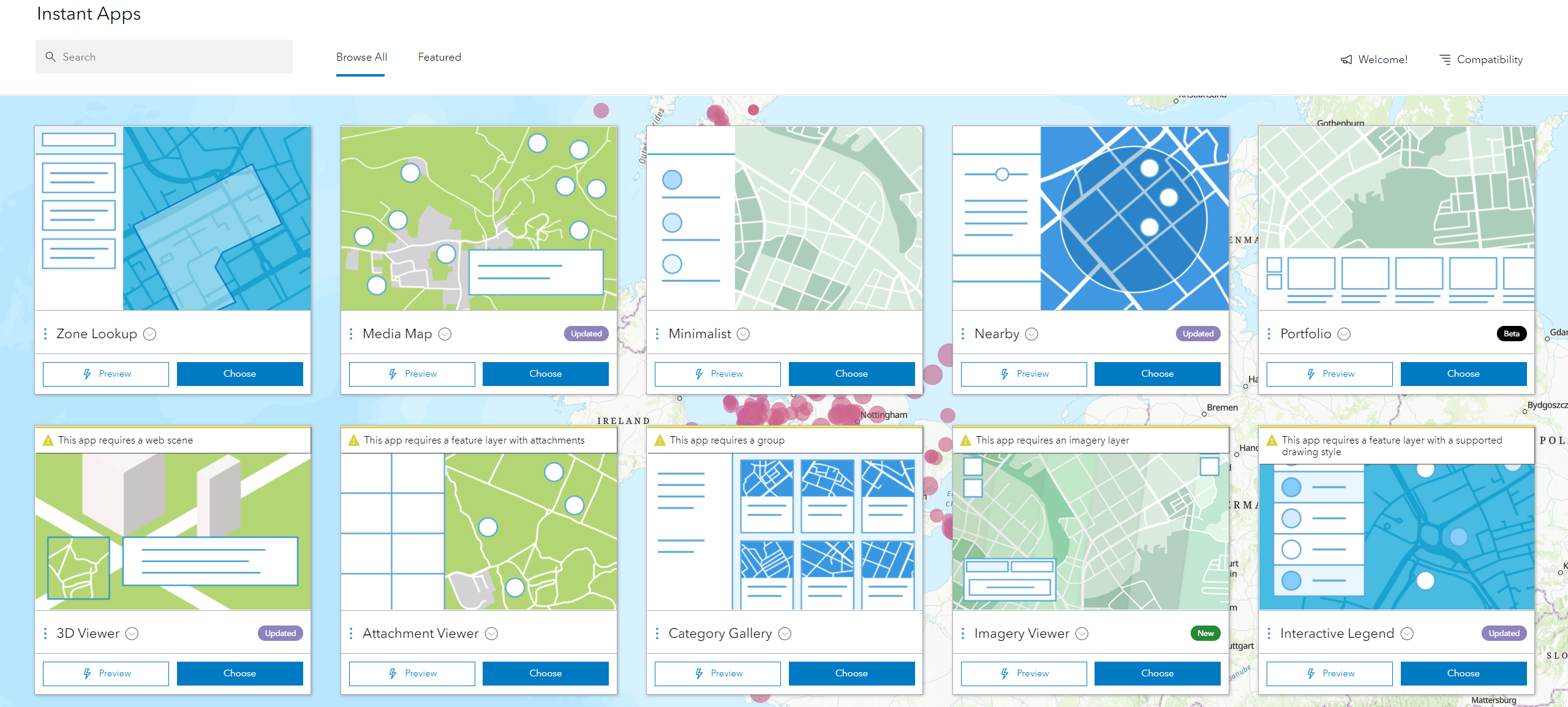 Two new ones have been added. The Portfolio App (Beta) presents a set of related apps as a group. The other app is Imagery Viewer, which lets you explore imagery through time and includes tools for measurement and recording locations. It can also be set up to compare imagery using a swipe.
Also: Interactive Legend has gained a time filter, result filtering has been added to Nearby and an elevation profile tool has been added to Nearby, Media Map and 3D Viewer.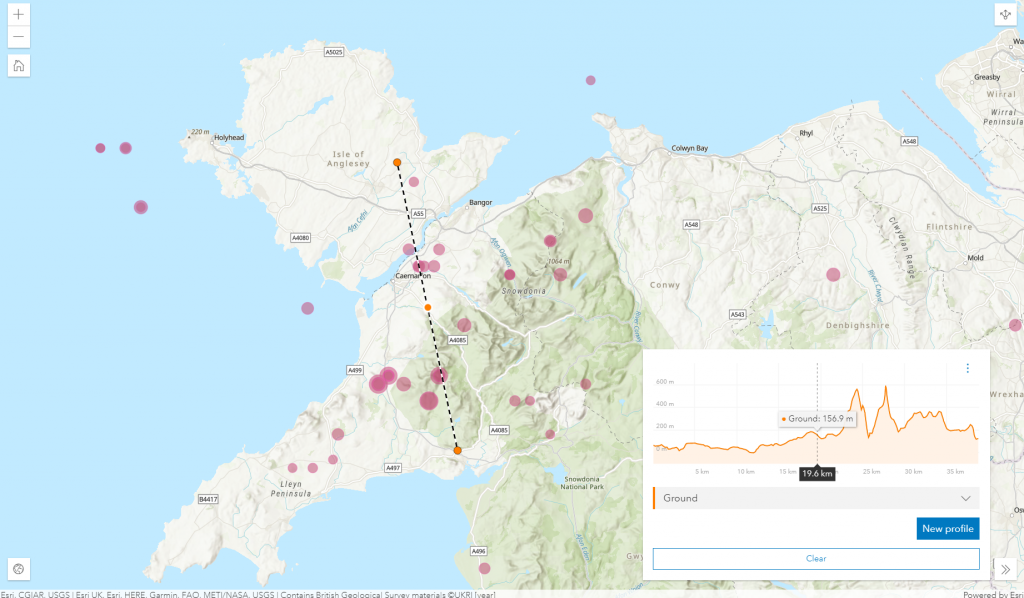 The Instant Apps support all of the options that the new Map Viewer gives us and are responsive – adapting their layout to the screen size. These apps also work with accessible technology like screen readers, making them a good choice for presenting maps on a website.
Partnered Collaboration
ArcGIS Online has always provided a way to securely share information with members of another ArcGIS Online Organization via groups. This update introduces are far more flexible and comprehensive way for two or more ArcGIS Online Organizations to work collectively: Partnered Collaboration. Find out more about this in our companion blog.
ArcGIS Dashboard
Another beta has ended as the new ArcGIS Dashboards becomes the default experience for building dashboards. The older ArcGIS Dashboards is now ArcGIS Dashboards Classic.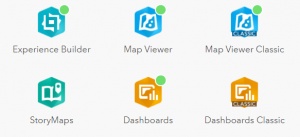 As well as supporting all of the options that come with the new Map Viewer, the new Dashboards also support Arcade – adding the ability to use data expressions. The new ArcGIS Dashboards can also make use of feature collections and csv files as data sources. We'll be coming back for a deeper look at ArcGIS Dashboards soon.
Scheduled Notebooks
ArcGIS Notebooks, an implementation of Jupyter notebooks, in ArcGIS Online are a really powerful tool for managing and analysing data. With this release you can now schedule a notebook to run automatically. Perhaps you have a process to analyse data and update a feature attribute or generate a report – this can now be scheduled as a daily task. If you have large update tasks to run, a scheduled notebook can be used to run it out of hours.
To make it easier to manage updates to your notebooks, save and restore points can be created using Snapshots.
Home page editor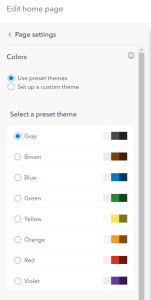 As an important information portal, the home page for your organisations ArcGIS Online content should look as if it belongs to your organisation. To help achieve this you can now change the colour theme by choosing one of the presets or creating a custom one to match your branding. To help avoid accessibility issues, in line with WCAG 2.1 standards, the editor indicates when colours don't work well with the background.
Experience Builder
Four new widgets have been added to Experience Builder: Branch Version Management, Chart, Query, and Coordinate Conversion. No prizes for guessing which one caught my eye… I've had a quick check and, once you've configured your chart and set up its interactions, you can have interactive charts in your Experience apps too! I also think the Query widget is going to be powerful as it lets you run attribute or spatial queries and use the result to trigger an action such as displaying the results or zooming to them.
You can find out about the rest of the updates to Experience builder here.
3D
The Scene Viewer has had enhancements to improve rendering and a new elevation profile tool has joined the measurement tools (under Analyze). This allows you to create a profile for the ground and any 3D layers in your scene, but also generates stats such as minimum and maximum slope.

I hope this classic update to Online has got you as excited about the new possibilities as I am! As ever, please take a look at the what's new page for the full details.