Drawing on lessons learned during the COVID-19 lockdown, Esri UK is adopting more flexible, customer-focused and sustainable ways of working for the future.
By Peter Wilkinson, Esri UK
After months of unprecedented disruption to our lives and businesses, lockdown is now beginning to ease in parts of the UK. Whether we are keenly anticipating the reopening of pubs and hairdressers, planning visits to family, or desperate to dispatch our kids back to school, we are all, one way or another, looking forward to getting back to some sort of normality.
At Esri UK, we are becoming increasingly aware that, as an organisation, we should not simply be aiming to go back to how things were before. Rather, we should be planning to go back to how things could have been before and adopting better ways of delivering services for our customers. Being forced into an unfamiliar situation where we all had to work from home, may have been unsettling at first, but it showed us that we could work remotely and that this approach to delivering services could have long term benefits for our employees, our customers and our planet.
With this is mind, Esri UK is developing a new 'Remote-First' approach to delivering Professional Services. We aim to take the lessons learnt over the last three months and introduce new ways of working that deliver value for our customers, our employees and our planet. And whilst there will still be plenty of occasions for face-to-face contact, we are finding a more flexible approach is helping both Esri UK and our customers to improve their ways of working, so that we can all realise benefits in the aftermath of COVID-19.
Becoming more responsive to customer needs
Our experience over recent months has shown us that we can continue to deliver Professional Services while working remotely and, at the same time, be more responsive to our customers' requirements. Travel arrangements are now much simplified and our consultants can be available at shorter notice to work on a wider range of customer projects. For example, they can work on projects in Aberdeen one day and Plymouth the next, without the usual logistical challenges. We can also put together multi-skilled teams more easily and engage our experts in multiple projects in a far more flexible way than before. During the lockdown, Esri UK successfully delivered a wide range of exciting new projects for customers. The vast majority of these were originally planned as on-site customer engagements, but were delivered remotely using a wide range of collaborative tools.
Looking ahead, a Remote-First approach will open up options for Esri UK to introduce more flexible consultancy packages, for example giving customers the ability to draw on short bursts of our support when they need it, without having to wait until they 'build up' sufficient need to warrant a full day's worth of consultancy. Like our on-site services, our remote consultancy services, will help our customers to innovate, improve their efficiency and deliver new services so that they can grow profitably and succeed in the wake of the COVID-19 crisis.
During the lockdown, Esri UK successfully delivered a wide range of projects for our customers. The vast majority of these were originally planned as on-site customer engagements, but were ultimately delivered remotely using a range of collaborative tools. For example, at Transport for West Midlands (TfWM) we were one week into their new Customer Advantage Programme when lockdown began. Our working location changed overnight, but we were able to respond by introducing new communication channels from the start, including video calls and instant messaging and 'virtually' joining the regular team meetings. Lockdown also changed priorities with a new focus on using ArcGIS Hub to provide information to keep vital services running for healthcare staff and other key workers. We were able to respond quickly and provide additional support whilst continuing to work collaboratively as a team. As the COVID situation evolved, we supported a range of other activities including a successful bid to the Emergency Active Travel Fund to support walking and cycling in the West Midlands.
"ESRI have continued to provide a superb service, despite the changing circumstances. It has been like having an extension of our existing team and I believe we have actually received greater output as a result of the more flexible working and a reduction in travel time" – Stuart Lester, Data Innovation Lead, Transport for West Midlands.
Enabling flexible working for employees
When the lockdown first came into effect, home working was a necessity not a choice, but over time many people have discovered that they enjoy the freedom from commuting, the peace and quiet of a home office and the potential of more flexible working hours. One recent survey, commissioned by Skillcast and conducted by YouGov (May 2020), suggested 68% of people who experienced home working for the first time during lockdown said they would like to carry on working from home after the COVID-19 crisis. 70% believed they could be as productive when working from home as in the office.
Where possible, Esri UK plans to give its Professional Services team the flexibility to be able to work remotely in the future. Lockdown has shown us that we already have all the technology we need to enable our employees to work effectively from home. At the height of the crisis, we were able to continue to deliver solutions for the vast majority of our customers with minimal disruption using a suite of collaboration tools from video calling, online chat and desktop sharing applications to project management, virtual whiteboarding and code sharing platforms. These tools ensured that our customers remained involved and were able to contribute throughout the entire journey. If necessary, consultants could also access customers' ArcGIS environments in a secure way and implement GIS solutions directly into cloud platforms such as Azure and Amazon Web Services (AWS).
In the post-COVID-19 era, we anticipate that we will be working with a growing number of our customers to help them migrate their ArcGIS platforms to the cloud, so that they can also make it easier for their own employees to work remotely and work from home. The Environment Agency is one example of an organisation that had already migrated its on-premises ArcGIS platform to a cloud-based, managed service prior to the outbreak of COVID-19. As a result, all of the organisation's 10,000 employees had access to vital flood and environmental data, from home and the field, enabling them to work productively throughout and beyond the lockdown.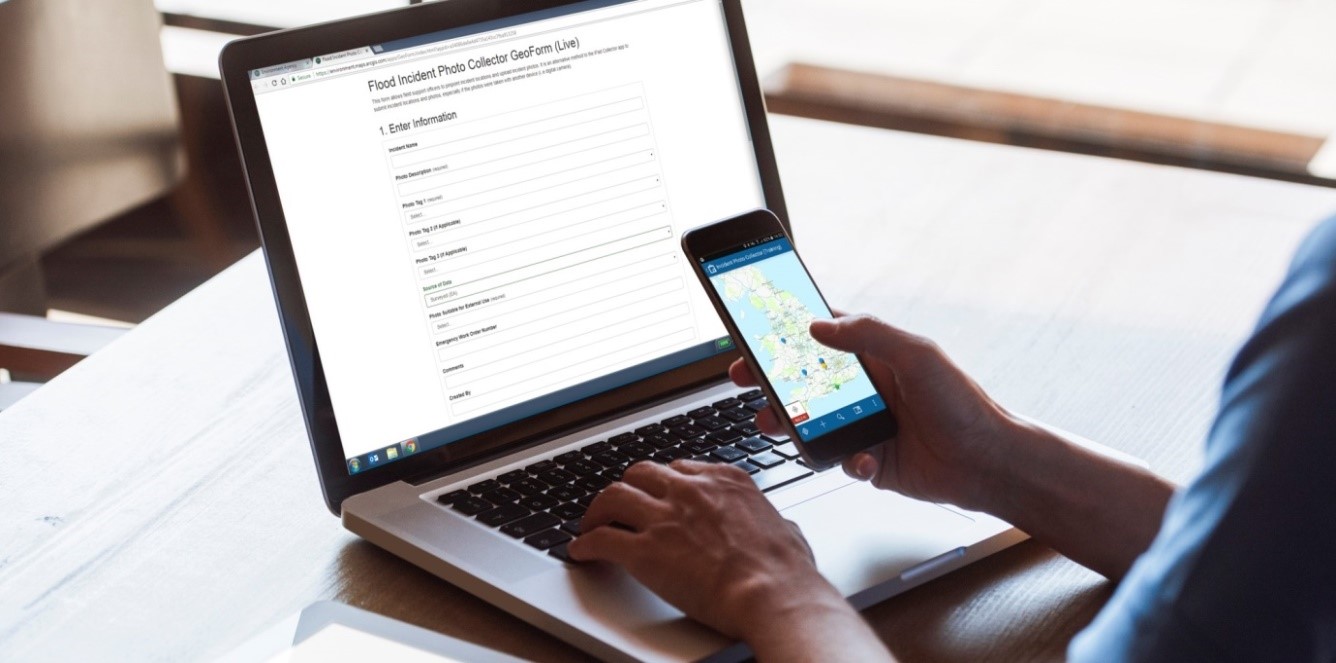 Environment Agency employees can access ArcGIS from home and the field, Image ©Environment Agency
Supporting sustainable working practices
Two things that our customers care about increasingly are our ethical and sustainability credentials. More and more of our customers are implementing significant Corporate Social Responsibility programmes that are affecting real organisational change. At Esri UK we are taking a similar approach, and we also want to support our customers' aspirations. Through our new Remote-First approach to delivering Professional Services, we can reduce our travel, cut our carbon footprint and help our customers to achieve more sustainable supply chains.
We are inspired in particular by the leadership shown by the global insurance company RSA, which has been an Esri UK customer for around 20 years. "How we do business is as important as what we do, and our customers, colleagues and partners rightly ask that we are conscious of this," writes Stephen Hester, Group Chief Executive of RSA Insurance, in the forward to the organisation's 2019 Corporate Responsibility Report. As part of RSA's Confident Futures strategy, the organisation is building social and environmental criteria into its processes for selecting and managing suppliers and, in 2019, it assessed 80% of its suppliers against a range of environmental, social and corporate governance issues. We know that many organisations are taking a similar ethical approach to sourcing products and selecting service providers - and others will follow their lead. In our opinion, remote service delivery is one example of the right ethical thing to do, when travel isn't absolutely necessary.
That said, we will not stop delivering on-site Professional Services all together. There will still be times when consultants will be able to deliver best value when working physically within a building and alongside an in-house team. However, we do plan to reset the balance between on-site and remote working. COVID-19 has shown us that we can deliver the same high quality consultancy and technical services from our homes that we do in our customers' offices, while improving the health and wellbeing of our staff and reducing our carbon footprint. At the same time, many of our customers are learning that they can likewise use ArcGIS in the cloud to improve their employee wellbeing and corporate sustainability. So let's no longer go back to the way things were before - let's go back to the future instead.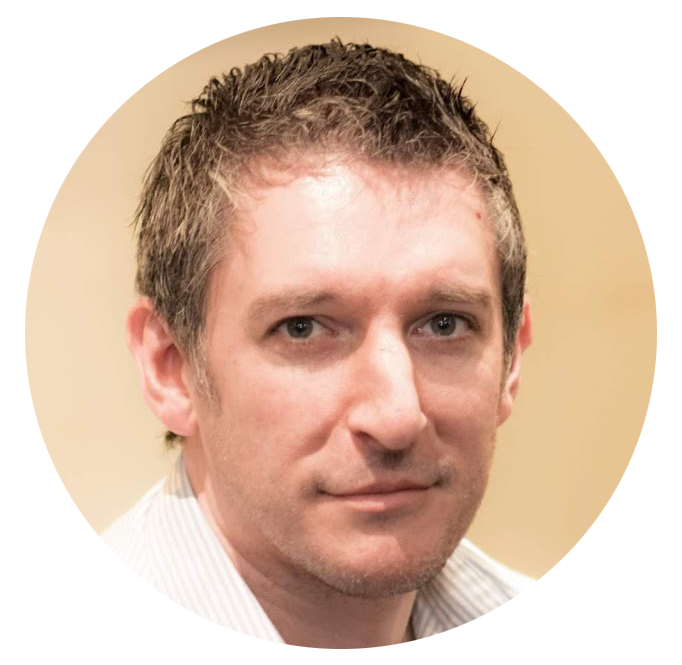 Peter Wilkinson - Esri UK
Peter Wilkinson is Head of Professional Services at Esri UK. In this role, he leads a team of over 100 consultants, developers, architects and project managers who deliver projects to a wide range of customers across multiple sectors. Projects range from one or two days of advice and guidance, to significant programmes of work which run for many years. Pete has been with Esri UK for 20 years having started as a GIS consultant. He has worked in various parts of the business including Presales, Training and Support.